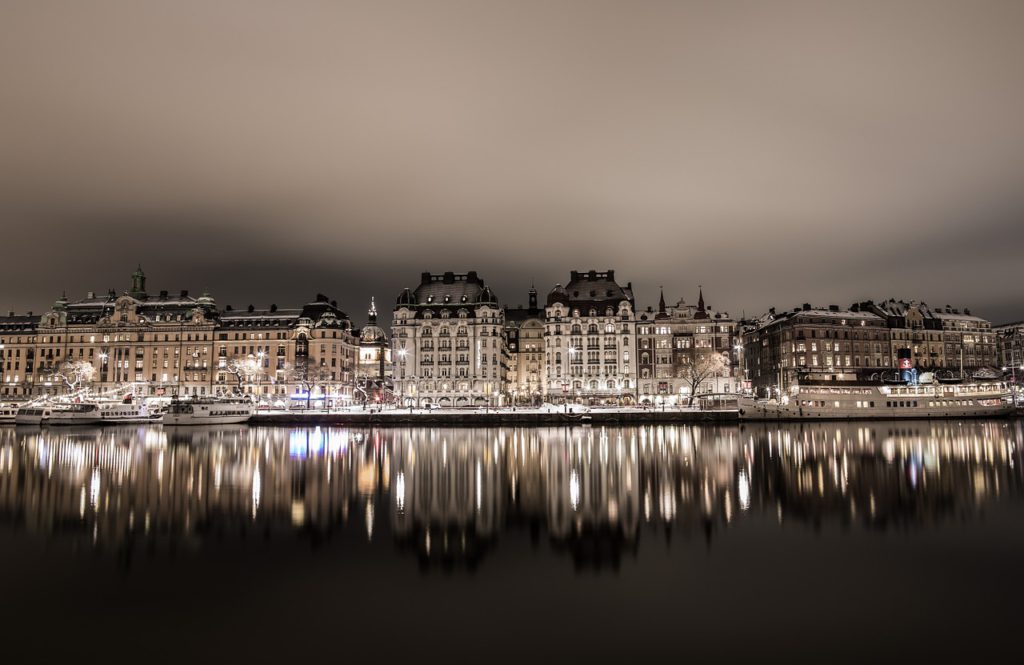 Stasher's excellent prices, easy scheduling system, and at-your-door services make international travel easier.
About Sweden
Sweden is a country in Scandinavia that's sandwiched between Finland and Norway and is home to over 10 million people. The country is home to many inland lakes, mountains, forests and thousands of coastal islands.
Sending Luggage to Sweden with Stasher
There are many reasons to travel to Sweden. Perhaps you want to experience a new culture or you're going on a business trip. The most stressful part of planning a trip like this has to be getting your luggage there. It can be expensive and time consuming to figure out this part of travelling.
While taking your luggage with you on an airplane might seem like the easiest and simplest solution, it's not. Between carrying your luggage with you everywhere you go, dealing with weight limitations and paying extra fees for going over those limitations, you'll be exhausted before you even arrive in Sweden. An international removal company could be an easier option, but it can still be costly. You also run the risk of getting to Sweden long before your luggage does if it ends up on a slow ship.
Stasher erases the problems that airline transportation and international removals present. Instead of going through a lengthy process, Stasher's website will take you through the easy process step by step. Start by getting an instant quote, so you'll have an idea of how much it will cost to send your luggage to Sweden with Stasher. Once you get your quote and finish the online process, we will send you shipping labels. Simply attach these labels to each piece of luggage that you're sending to Sweden. Leave your luggage outside your front door and we will collect it and see that it arrives at your door in Sweden.
Who is Stasher for?
Anyone and everyone. You could be travelling for business, attending a Swedish university or simply relocating. No matter who you are, you can ship your luggage to Sweden with Stasher.
We're Easy and We Have Your Back
Stasher understands the anxiety that can comes with travelling internationally and sending your luggage ahead. What if it gets lost? What if something goes wrong? Stasher's goal is to be so transparent that there aren't any details left out. Knowing that everything is taken care of can provide you with peace of mind before your trip even begins.
That peace of mind begins the moment we have your belongings and doesn't end until you and your luggage are together again in Sweden. You'll have access via our website to 24/7 shipment tracking information. Should you have a worry or concern, we are here to chat with you on the phone, email back and forth or connect on live chat.
Ship More than a Suitcase to Sweden
In addition to your luggage, you can also send boxes, musical instruments and sporting equipment to Sweden. Boxes are perfect for surprise gifts to brighten a loved one's day. Just be sure to follow customs rules as some items are prohibited. When it comes to sporting equipment, Sweden has ample ski resorts that you'll want skis for! There's nothing better than enjoying the unique experiences a country has to offer and Sweden is no exception.
Sweden Luggage Shipping Tips
Sweden might have different rules than your home country does. Be sure to check out customs requirements and see if a quarantine period is required for your belongings.
Find Sweden's official travel information so you aren't misled by inaccurate sources. Taking a few extra minutes to find the right information can save you from a lot of pain down the line.
Consider your travel needs and pick an option that works best for you.
Make sure your package is well protected. Use bubble wrap for items that could break easily.
Prohibited Items, Non-Compensation Items and Packaging
Even though Stasher is happy to ship anything for you anywhere in the world, there are items you can't ship. The following items are prohibited:
Aerosol sprays
Perishable foods
Edible pet products
Cash, debit and credit cards
Hazardous materials
Medicines
Liquids
Confidential personal documents like passports and birth certificates
Plants
Additionally, Sweden does not allow knock off or pirated products.
Please also remember that while we can ship anything that's not prohibited, not everything is covered under the insurance we offer. Please go over this information carefully so you're prepared.
The best types of packaging to use when shipping your luggage are strong suitcases that can afford to be knocked around a bit and double-walled cardboard boxes. For delicate items, use bubble wrap, newspapers and packing noodles as padding.
Swedish Customs Regulations
Sweden is strict when it comes to customs. No matter where you're shipping from, a customs declaration is required. Without the customs invoice attached to each package, Sweden will not allow it to cross their borders and return charges might have to be paid to get your luggage back. Stasher will make sure you have everything you need to successfully get through customs. Just be sure to follow every single step!
Keep in mind that while Stasher will prepare you for customs, some things are beyond our control. It's advisable to research Swedish customs to find additional information. You can never be too prepared.
We hope you enjoy your time in Sweden, experiencing its unique culture. Be sure to pack a coat if you go skiing! And remember, Stasher is here 24/7 if you need any help while packing.