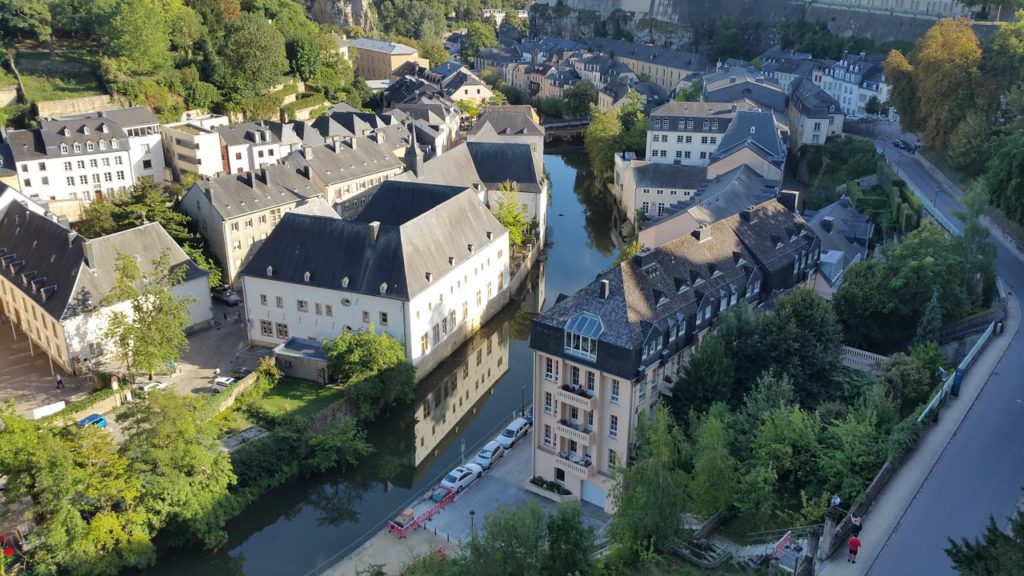 Stasher offers unique services so you can avoid steep, out-of-pocket costs for your trip abroad.
About Luxembourg
Luxembourg is another country in the European Union. It's tiny and not as well-known but has plenty to offer visitors. In fact, the capital, Luxembourg City, has its own medieval town, complete with a fortress. Luxembourg also has an Ardennes forest that comes with breathtaking views, nature parks, the Mullerthal's rocky gorges and the Moselle River Valley. Luxembourg is a haven for outdoors, nature-loving people.
Shipping Luggage to Luxembourg with Stasher
While vacation is great and can be loads of fun, getting there isn't always the case. Packing while keeping track of airline restrictions often causes travellers to leave important personal items behind. Lugging and keeping track of multiple suitcases and carry-ons through airports and train stations is also a major pain. You can completely bypass these problems by using Stasher. You can hand your luggage over to us instead of worrying about how much your suitcase weighs or making sure you're not missing a bag as you exit the plane.
Using Stasher is easy. Simply visit our website and fill out your information to get a quote. Then, book your reservation, and we'll send you shipping labels. Attach labels to each box, suitcase, or container you use to send your luggage abroad. Leave your luggage at your front door for your scheduled pickup time. We'll pick up your luggage and take it directly to where you're staying in Luxembourg. While your luggage is en route, you'll be provided with shipment tracking information, so you'll know where your luggage is every step of the way. Trust us, we understand that anxiety-inducing part of travelling!
Luggage and More to Luxembourg
You don't need to stop at clothing and shoes. Stasher can ship just about anything (provided that it's legal – more on that later). There are various reasons to travel to Luxembourg: You might be a student exploring a new culture, or you could be on business or simply getting some fresh air on vacation.
We can ship your entire life to a Luxembourg university, and we'll see to it that your luggage gets exactly where it needs to be. Or we can send gifts to friends and family who live far away but are close to your heart. Not to mention you can save money on your vacation fun by shipping sporting equipment ahead. This could be particularly appealing if you want to play golf or ride your bike in Luxembourg.
Whatever your reason for travelling is, be sure to plan ahead. An ounce of effort can save you a lot of pain in the long run. Once you know your exact travel dates, book us online and begin carefully packing your belongings for Luxembourg! We're excited to be part of your trip.
Prohibited Items, Non-Compensation Items and Packaging
While we can ship just about anything you might want to take with you on your trip, we are subject to the same laws as everyone else. For this reason, there are some items we are not able to ship for you:
[Insert list here]
Please also bear in mind that with all the items we can and will ship, not everything is covered under our insurance. Please carefully review what we do and don't cover, so you can decide what you want to pack. One thing we don't cover is the packaging you use to pack. Please bubble wrap anything breakable like glass. Please don't use luggage that you wouldn't want to get damaged. And make sure that all your boxes are sturdy! We want all your luggage to make it safely to Luxembourg!
Luxembourger Customs Regulations
As a European country, Luxembourg is happy to receive luggage from other countries in the EU without import taxes or duties. No customs clearance is required. But if you're shipping from a country outside the EU like from Mexico, Brazil or the United Kingdom, you will be required to go through customs.
Don't let this overwhelm you! If you properly prepare, you'll be set. Be sure to fill out a custom invoice with detailed information on what's inside each package. Be super specific. If you have a computer, iPad, iPhone and Android in a suitcase, list all of them instead of saying "four electronic devices." Customs wants very specific information on what is being sent to and from different countries. Be sure to include a customs invoice on each and every piece of luggage you ship. If any luggage is missing the customs invoice, it will not get through customs and you might be subject to extra fees to get your luggage back.
While Stasher does everything we can to ensure your package gets where it needs to be, the customs process is outside our control. We can give you general advice, but we strongly recommend consulting the Luxembourg government to make sure you meet all customs requirements. Also, keep in mind that while our shipping services are fast, we cannot control how long it takes to get through customs. Most packages get through customs in a timely manner, but there are the outliers and we unfortunately have no control over that, nor any way of knowing which packages could take longer to get through customs.
We at Stasher wish you safe and happy travels! Thank you for allowing us to be part of your travel-abroad experience. We hope you have a wonderful time in Luxembourg and that our services make your trip an even more pleasant experience!