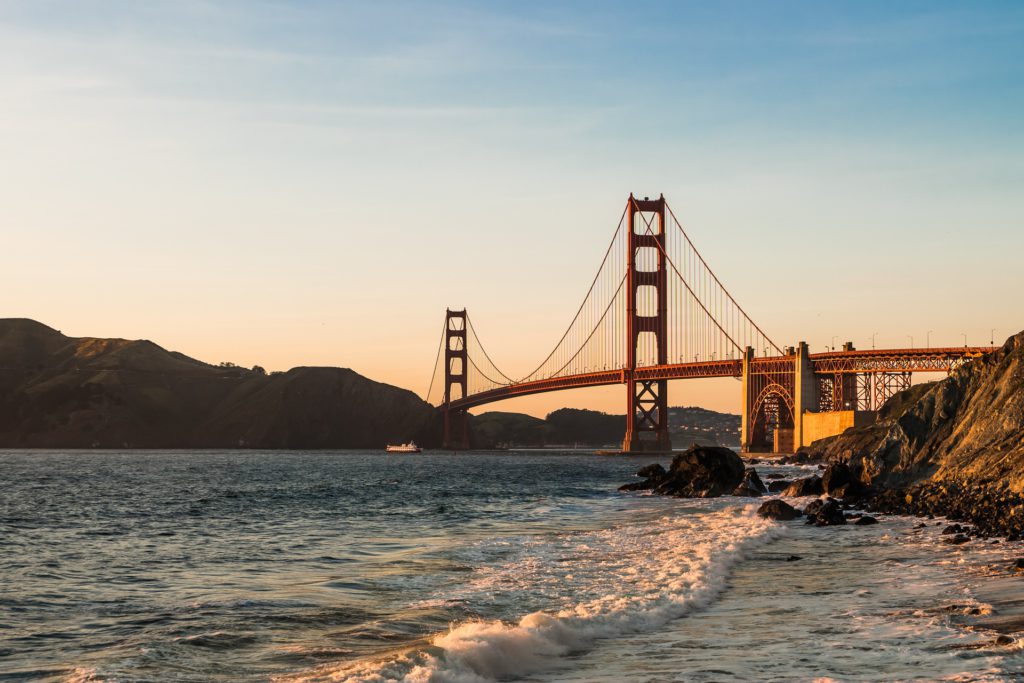 Are you heading to the United States? Are you worried about lugging all your suitcases through the airport? Stasher is here, and we've got your back. Let us take care of your luggage for you, so you can focus on traveling and enjoying yourself.
Any thoughts of going to the airport with more than a carry-on typically induce stress. But what if you didn't need to drag your luggage through the airport or risk it getting lost? What if you could limit it to a carry-on with only your daily essentials?
Stasher makes that a reality with our luggage shipping service. We take away all the stress and hassle that comes with security, luggage, and outlandish airport fees. We pick up your luggage right from your front door and take it to your destination, all while charging reasonable fees and providing you with 24/7 updates.
About the United States of America
The United States of America is, in a word, huge. 51 individual states comprise the country, with each state offering uniqueness and diversity. If you're not sure what kind of adventure you're looking for, the US might be your perfect vacation spot. Choose from mountain biking and hiking in the Midwest to ferries and the Statue of Liberty in the Northeast. Some of the most popular American cities include:
Los Angeles, California
Walt Disney World, Florida
Grand Canyon, Arizona
Washington, District of Columbia
And those are just a few of the places you can visit!
Reasons Customers Send Packages to the US
To send personal effects ahead for traveling
To move to the States for work
To visit family or friends
To send a gift to a loved one who lives in the US
To attend a university
It's easy to send your luggage with Stasher. Our services encompass everything you could need for your trip. You could be preparing for a year of studying abroad, going on the vacation of your dreams, or traveling on business for your company. Whatever your reason for your travels might be, Stasher will take care of all your luggage for you.
Our services are affordable, easily beating out traditional couriers and international removals companies. Our weight allowance is generous at 66 lb/30 kg, with options to ship even heavier items, all while remaining affordable.
Tips for When You Ship
Stay up-to-date with US quarantine regulations and customs information. COVID-19 might affect your shipment.
Check reviews and ratings for different shipping companies.
Get multiple shipping quotes and compare them.
Check out shipping schedules to see which companies have the best times for you.
Please pack your items very carefully. We recommend using bubble wrap and newspaper to cushion fragile items.
Ship Your Luggage Ahead
Once you see how convenient Stasher's services are, you'll never drag your luggage through the airport again. In addition to the typical items you would think to pack (clothes, personal care items, electronics, etc.), you can also send care packages, excess luggage, sporting equipment, and musical instruments with Stasher. Our services truly cover everything you could need.
Student Shipping
If you're coming to America to attend a university, Stasher will make your moving experience much easier! Whether you're attending an Ivy League university or checking out USC, Stasher can make sure that all your personal belongings go straight to your dorm room or apartment!
Popular American Universities
University of Southern California (USC)
University of Illinois – Urbana – Champaign (UIUC)
New York University (NYU)
University of California – Los Angeles (UCLA)
Northeastern University (NU)
And that list barely scratches the surface of the educational experiences that America has to offer.
Customs Information
If you're coming to the United States, all your luggage must pass through customs. There are no exceptions to this. We will send you the necessary documents to fill out and attach to your luggage.
You must attach a customs invoice to each piece of luggage that you are sending. The US government wants to know exactly what is coming in and going out of their country, so they require very specific details. Instead of writing "clothes" on the customs invoice, write exactly what kind of clothes are inside your suitcase. An example of a properly filled-out customs invoice would be, "four sweaters, five sweatshirts, six pairs of jeans."
If you fail to attach a customs invoice to any of your luggage, it won't pass through customs, and you'll be required to pay a fee to get it back. So, please remember to fill out all customs invoices and attach an individual invoice to each piece of luggage. We want your luggage to make it to America!
Packages generally clear through customs quickly, but there are exceptions to everything. Customs is the only part of the shipping process that Stasher can't control. We strongly recommend checking with local customs to determine the laws surrounding quarantine, as well as waiting times and paperwork requirements. This will help ensure that your package clears through customs and arrives at your destination on time.
What You Can't Ship and What We Don't Insure
While Stasher is proud to ship just about anything, there are some things we can't ship due to international laws. While different countries have different requirements, there are some items that are banned across the globe. These items include:
Sprays (think Lysol)
Products from animals (think Endangered Species Act)
Money (cash or card)
Anything Dangerous
Anything Hazardous
Liquids
Medications
Confidential documents (passports, ID, etc.)
Food that will go bad (even if it doesn't expire for a while!)
Plants
Additionally, while we ship just about anything, we don't insure everything. Anything that is not covered by our insurance may still be shipped, but it will be at your own risk. We strongly recommend cushioning fragile items with bubble wrap or newspaper to help prevent them from breaking.
Packaging
When packing in general, please use luggage that is in good condition and boxes that are either brand new or like new. If the integrity of a suitcase or box is in question, please don't use it. We don't cover packaging, and we'd hate to see you lose valuable items because a box fell apart or the zipper on a suitcase broke, spilling your personal belongings everywhere.
How to Send Your Luggage
Shipping with Stasher is super easy!
Visit our website and click to get an instant quote. Use that quote to book your shipment.
Print out the documents we send you and fill them out carefully.
Attach the documents to your luggage.
Take your luggage to your designated drop-off area.
We will pick up your luggage and transport it to America for you, to your specified destination.
Choose between email and text notifications to receive 24/7 updates on where your luggage is.
Shipping with Stasher is truly that simple. If you need help obtaining your quote, have any questions about Stasher, or have concerns about the shipping process/customs, please reach out to us! We will be happy to assist you with whatever you might need.
Good luck with packing and happy travels!