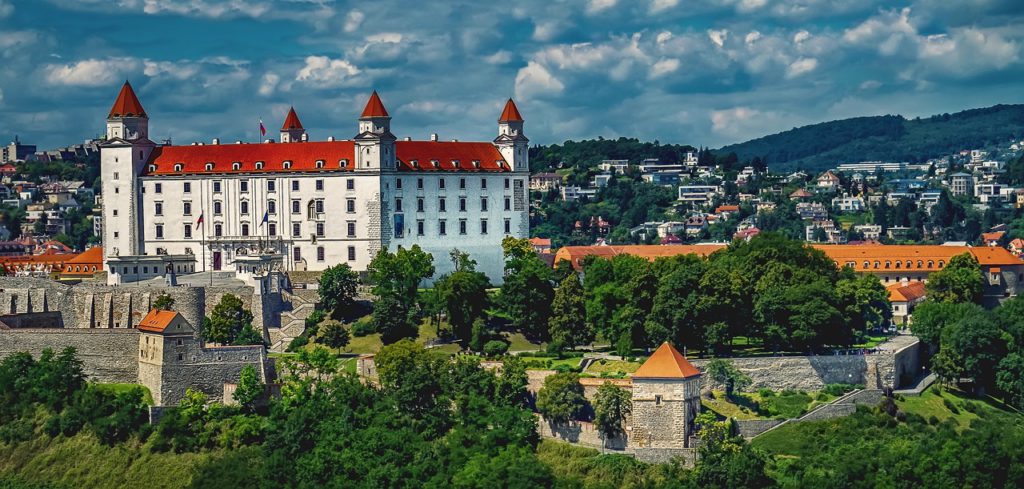 Stasher offers everything you need to make your trip to and from Slovakia a breeze.
About Slovakia
Slovakia is a country in the European Union, nestled right in the middle of Europe. It's a fairytale dreamer's paradise. Stepping foot in Slovakia is much like stepping out onto a real-life stage, complete with castles and a mystical backdrop. Bratislava, the capital city, has museums and an old town for you to walk around. No cars are allowed in this area, so you can stroll without looking both ways!
Send Your Luggage to Slovakia via Stasher
Enjoy your time without worry in Slovakia. We take care of everything, from clothing to computers and everything in between. Business trips, travel for collegiate studies and vacations are what keep us busy here at Stasher. By using our services, you can hop on your flight with free hands and no concerns about whether your carry-on will fit in the overhead compartment.
50,000+ customers rely on our services all over the world. Here are some reasons why:
Stasher is very affordable. Pay as low as £17 for a 30kg package
No time spent on the phone – take care of everything on our website
No red zones in Slovakia – we can get your luggage anywhere
We pick up your luggage at your front door and deliver it to where you're going – you don't have to do anything in between
If your trip is last minute, we can expedite your luggage without it costing you an arm and a leg
Track your shipment at any time on our website
Receive updates via text message or email
Our insurance will reimburse you up to £100 if anything happens to your luggage
If you need help, you can call, text or email us anytime
Ship Anything to Slovakia
If you're planning to move to Slovakia, you'll be taking more than clothes with you! We know the drill and we've got you covered. By using Stasher, you'll avoid expensive fees and added charges for large items. We send boxes, sporting equipment like skis and bikes and more. If you have questions about a specific item, let us know and we can provide detailed information.
While we've got you covered, we recommend planning for things as early as possible. You'll need to plan for customs, decide who to ship with (Stasher of course!) and plan for your luggage to arrive on time.
Prohibited Items, Non-Compensation Items and Packaging
Stasher is subject to the same rules as everyone else. While we boast an impressive list of items at very reasonable prices, we cannot ship any items that are prohibited by law. These include:
Money (cash or card)
Fresh foods that will go bad
Medications
Products for animals
Aerosol sprays
Anything dangerous
Anything hazardous
Plants
Liquids
Confidential documentation (license, ID, passport, etc.)
While our insurance covers a lot, it doesn't cover everything. One thing we don't cover is packaging, so it's important to ship your items to Slovakia in packaging that isn't old, broken or bent out of shape. Please don't ship your fine china without carefully wrapping each piece in plenty of bubble wrap. Please don't send your clothing overseas in an expensive suitcase you don't want to damage or lose. If you use a box, make sure it's strong and preferably double-walled. If there is any chance it could break on the way to Slovakia, please don't use it.
Slovakian Customs Regulations
Since Slovakia is in the European Union, you don't have to bother with customs if you're travelling from another member. But you are subject to customs if you're shipping from anywhere else, e.g. the United States, United Kingdom or South America. Don't let that freak you out though as the requirements aren't super difficult to follow.
The most important part is the invoice. In order to be compliant with customs, they need to know everything you're sending abroad. This includes the number of t-shirts in a suitcase, how many scarfs you have and so on. Air on the side of caution here with more detail, rather than less. Each piece of luggage, no matter how small or big, requires its own invoice with detailed information about everything inside. Otherwise, your luggage might not make it past customs.
Also keep in mind that while Stasher does everything we can to ensure your shipment goes as smoothly as possible, we have no control over customs. We encourage you to follow all customs rules and to check with the Slovakian government to make sure you don't miss anything important. We'll provide as much support as we can throughout the process.
Book Your Luggage Transfer with Stasher
Stasher is here for you. Visit our website to schedule your luggage pickup and we'll provide you with everything you need to get your luggage ready. Once we've picked up your package, we'll provide you with shipment tracking information so you'll always be able to see where your package is. Your luggage will be there to greet you when you arrive in Slovakia. Let us know if you need anything. Safe travels!