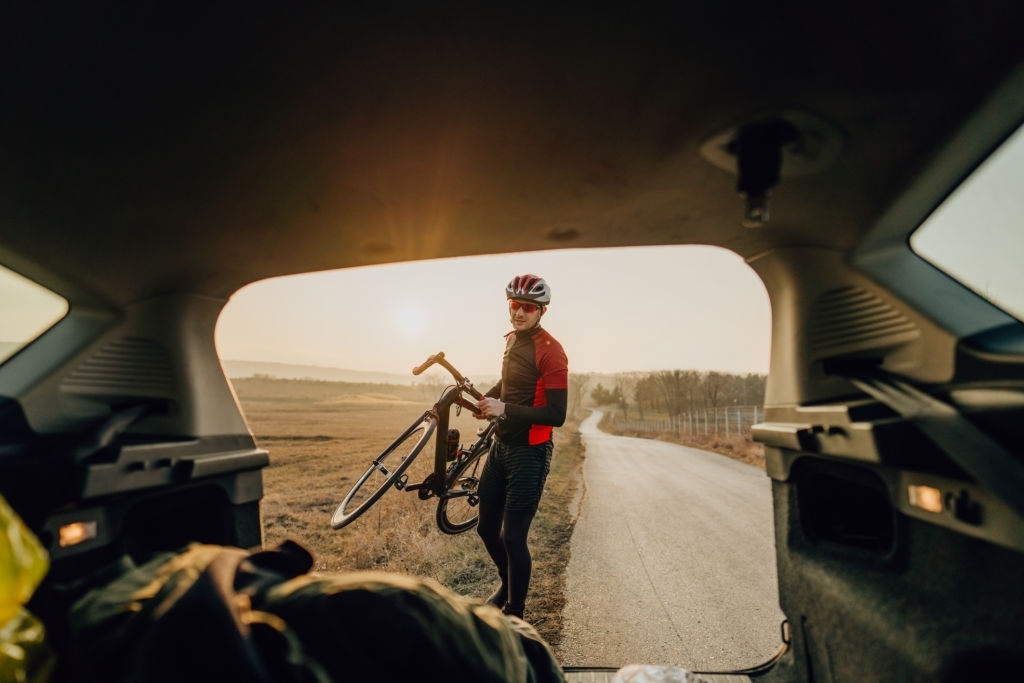 Stasher is here to help if you're going overseas and want to take your bicycle with you. We ship bicycles just like we ship luggage. You can avoid going through airport security and dealing with personnel who only care about getting your items through the conveyor belt as quickly as possible.
Shipping Your Bike
Stasher can ship your bike overseas without any of that hassle! We'll pick up your bike right from your front door and send it to your destination. It will be there, waiting for you when you arrive.
Why Ship Your Bike?
Besides avoiding a hassle at the airport, you'll have peace of mind knowing that your bike is already at your destination, waiting for you to hop on and cycle around.
By using your own bike when you travel abroad, you'll eliminate the concern of renting a bad bike with breaks that don't work or tires that easily go flat.
Stasher ships to 200+ different places, so there's a very good chance that we can ship your bike to your destination. Our prices are also very affordable, making us a top choice for many vacationers. And if you have any issues at all, our customer service department is open every single day. You can call us, email us, or chat with us. We'll be happy to resolve your concerns or fix any problems you might have.
So, how do you ship a bike?
There are two options: box it up or put it in a bike travel case. If you choose to box your bike up, take it to a local bike shop where they can disassemble it for you. When disassembled, you'll be able to fit your bike into a much smaller box, thus substantially reducing the cost of shipping. This is important since normal box dimensions will apply for shipping costs.
Dimension Restrictions
The following size restrictions apply to shipping your bike overseas.
Anywhere in the world
The (length x width x height (cm) / 5000) must stay within 30 for normal shipping prices. Anything exceeding 30 will be subject to extra charges. An $80 fee applies to any boxes that exceed 120 cm for length, width, or height.
In the UK (including Northern Ireland)
The length can't be more than 1.5m.
The longest length + height + width = 300cm or less
One way around these rules is to use the Express 24, a service that allows transportation from Northern Ireland to the UK, and vice versa, because the courier rules differ.
What is Stasher's Process?
Get a free quote from our website and follow the process.
Make your reservation.
Print your labels.
Attach your labels to your boxes.
Take your packages to your front door at the designated pick-up time.
We pick up your package.
That's it. We'll take care of the rest.
It doesn't matter where you live in the UK. We will take your items straight to the location you specify. You can ship up to 30 kg or 66 lb at very reasonable rates. We also offer custom rates for even larger packages.
Track Your Bike
Stasher offers 24/7 tracking services. We will keep you up to date through every step of the process until your bike arrives at your destination. Simply go to My Orders on Stasher.com to see where your package is. You can also sign up for text or email updates.
More Money Stays in Your Wallet
Here at Stasher, saving you money is one of our favorite things to do. Our shipping rates, even for oversized items, will be much lower than airline costs. Plus, once you've arrived at your destination, you'll avoid rental fees and any additional costs that bike rentals can incur.
Getting Your Bike Through Customs
If you're already in the UK, you don't need to worry about customs. But if you ship from outside the UK, you are subject to customs, including all import taxes and duties.
It's easy to prepare your bike for customs. We'll send you the documents to print out and attach to your box. On the customs invoice, you can write something like "disassembled bike". Once you've filled out all the information listed on the customs documents, attach the appropriate documents to the box your bike is in. You'll be good to go!
As far as timing goes, customs is the one area that Stasher can't control. The vast majority of the time, your bike will clear through customs quickly. But there are exceptions to everything, and we acknowledge that. What we can guarantee is that we will do our very best to get your bike to your destination as quickly as possible.
While Stasher does everything we can to ensure that your bike makes it safely to your destination, we highly recommend checking with customs to make sure you are up-to-date on all information pertaining to a bicycle shipment.
Why Stasher?
Simply put, we have your back. We take away all your worries and concerns by providing you with exceptional customer service. Our tracking system will keep your mind at ease while your bike is en route, and we will stand by your quoted price.
If you have any questions, please reach out to us! We'll be happy to help!