Interested in learning more about the Air France baggage allowance? The flag-carrying airline of France, Air France — alternatively styled Airfrance — has been flying the friendly skies since 1933 and has a fleet of 216 aircraft. The company flies to 36 domestic French destinations and 175 foreign ones. Flying Blue is the airline's frequent flyer program, and it runs two hubs: one each at the Charles de Gaulle Airport and Orly airports.
Air France Carry-On Cabin Baggage Allowance
At Air France, cabin class determines your carry-on luggage allowance. Travelers in the Economy class can bring one baggage item and one accessory, like a briefcase or purse, on board. Folks in the Premium Economy, Business, and La Première sections are allowed two bags and one accessory.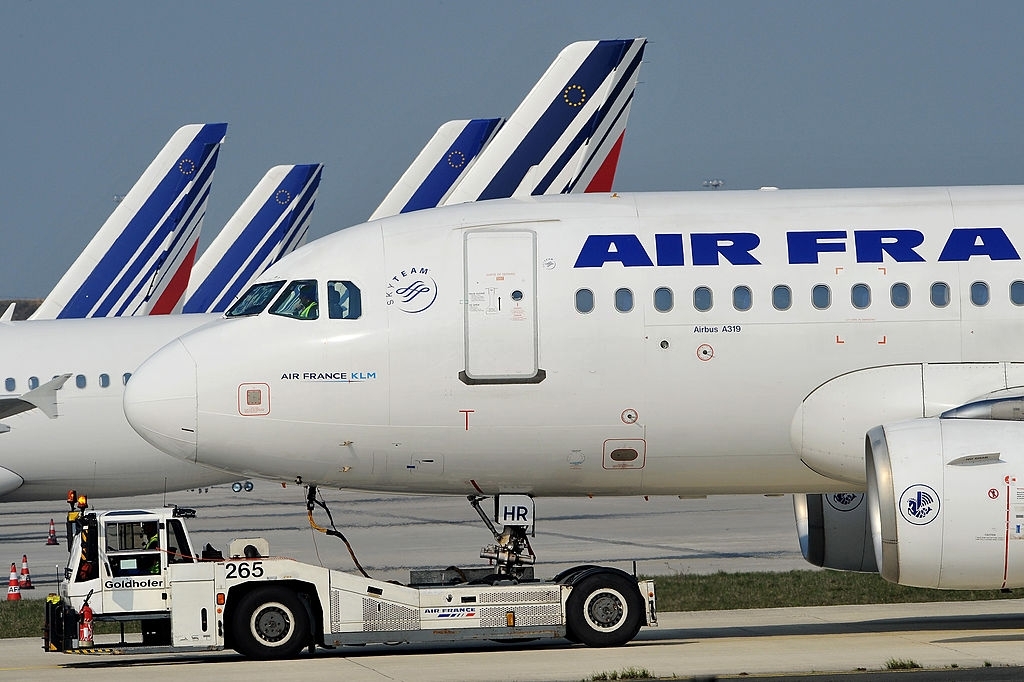 Cabin baggages mustn't exceed 55 cm x 35 cm x 25 cm. Accessory items cannot be larger than 40 cm x 30 cm x 15 cm. In terms of weight, economy passengers' items mustn't be heavier than 12 kg, and that limit jumps to 18kg for folks in the upper-class cabins.
In addition to the allotted on-flight baggage limits, flyers can also have on their person:
Coats and jackets
Umbrellas and ponchos
Duty-free purchases made in the airport or on the airplane
Childcare necessities (i.e., diaper bag, car seat, disposable stroller, et cetera; does not include "yoyo strollers, which are considered a baggage item)
Medical equipment (i.e., foldable wheelchairs, walkers, crutches, et cetera)
Pro Tip: Garment bags are considered a piece of baggage, not an accessory or clothing item.
| | | | |
| --- | --- | --- | --- |
| Cabin Class | Number of Bags | Air France Baggage Allowance | Size Restrictions |
| Economy | 1 | 12 kg | 55 cm x 35 cm x 25 cm |
| Premium Economy | 2 | 18 kg | 55 cm x 35 cm x 25 cm |
| Business | 2 | 18 kg | 55 cm x 35 cm x 25 cm |
| La Première | 2 | 18 kg | 55 cm x 35 cm x 25 cm |
Air France Checked Baggage
Like the airline's carry-on luggage policy, its checked baggage allowances are based on cabin class status.
Light Fare Economy: On some Air France flights, travelers can purchase ultra-cheap tickets if they agree not to check any baggage. It's known as a "light fare economy" ticket, and travelers who buy these tickets must pay for a checked suitcase. A one-bag limit is enforced.
Regular Economy: Travelers with economy tickets can check one bag that weighs up to 23 kilograms (50 pounds) for free.
Premium Economy: Premium Economy ticket holders can check two suitcases for free; each can weigh up to 23 kilograms (50 pounds).
Business: Travelers who spring for business class cabins can check two baggage items that weigh up to 32 kilograms (70 pounds) each.
La Première: Air France's first-class cabin, La Première, comes with many perks, including a three-bag checked luggage allowance. Each one can weigh up to 32 kilograms (70 pounds).
Budget Tip: It costs 20 percent less to book extra baggage online than doing it at the airport! So plan ahead.
Air France Excess Baggage Policy
If your checked baggage exceeds the size or weight limit, Air France will assess an excess baggage levy at check-in. You'll pay between €25 and €300 depending on the overage amount and flight route. Unfortunately, you cannot pre-book overweight or oversized luggage with Air France.
Air France Sports Equipment
Got sports equipment? If flying Air France, you can check items as baggage if they conform to the airline's size limits. If larger, the airline will assess an overage fee. Additionally, you may need to secure prior approval at least 48 hours in advance for some gear. Here's a breakdown of how Air France handles common sports items.
Golf Equipment: Unless oversized, a standard golf bag with clubs qualifies as a piece of regular checked baggage, and you don't need prior approval.
Diving Equipment: Wet suits, vests, masks, diving shoes, fins, knives, and pressure regulators are typically considered standard baggage. Underwater diving flashlights require prior approval, and you can check empty scuba tanks in the hold —but they aren't included in the standard baggage allowance.
Fishing Equipment: A pack of two rods, boots, a tackle box, and a net qualifies as standard baggage and is included in Air France's luggage allowance limit. If you bring three or more rods and additional tackle boxes, the airline will hit you with excess baggage fees.
Cycling Equipment: To check manual bikes, tandems, and folding bikes, you'll need to secure prior approval. Electric bikes with the battery removed are also permitted. However, lithium batteries over 160 Wh are a no-go. Regardless of type, however, cycles aren't included in the baggage allowance. Air France will charge an additional fee for checking them in the hold irrespective if you've reached your luggage allowance or not.
Ski, Water Ski, and Snowboard Equipment: So long as it's packed in a bag that doesn't exceed 300 centimeters (118 inches) in length, ski equipment is considered regular baggage that's included in your allotment. Avalanche bags, however, require prior approval. Also, carry-on ski helmets are considered luggage, not an accessory.
Surf, Kite-Surf, Bodyboard, Windsurf Boards, and Longboards: Surfing equipment requires prior approval. Sometimes, they qualify as standard under Air France's baggage allowance; other times, they don't, and you'll need to pay extra.
Firearms: Passengers can check some firearms and other weapons in the hold, but you must secure prior approval and complete additional paperwork.
Air France Musical Instruments
Whether or not you'll have to pay extra for a musical instrument depends on the "axe." For example, if you're transporting a harp, bass, tuba, or tubex, you'll need to secure prior approval and will likely be assessed an excess baggage fee. On the opposite end of the scale, you can take your piccolo or flute on as carry-on baggage, maybe even an accessory.
If you want to transport a musical instrument, it's a good idea to call in advance and find out how Air France treats yours.
Contact Air France
Air France Call Center
Phone: 0207 660 0337
Monday to Friday: 8.00 a.m. to 9.00 p.m.
Saturday and Sunday: 9.00 a.m. to 6.30 p.m.
Air France Web Support
You can also peruse the airline's contact us page for specific options.
Alternative to Excess Baggage Fees
You've read through Air France's baggage allowance parameters and realize you'll be charged an exorbitant amount in excess and oversized luggage fees for an upcoming trip. So what are the alternatives?
In a word: Stasher.
An international firm that deals in all things luggage, Stasher's baggage shipping service is reliable, affordable, and fully insured. Sometimes, their service costs half as much as Air France's excess baggage fees!
Stasher's booking process is a snap, and best of all, they come to you! You won't be saddled with gangly baggage at the airport, plus you can skip the seemingly interminable and irritatingly crowded luggage carousel ritual!
Head to Stasher's website for a free quote today. Or call their award-winning customer service team.
Once you try luggage shipping, you'll never go back to airport luggage schlepping. Click here to get started.