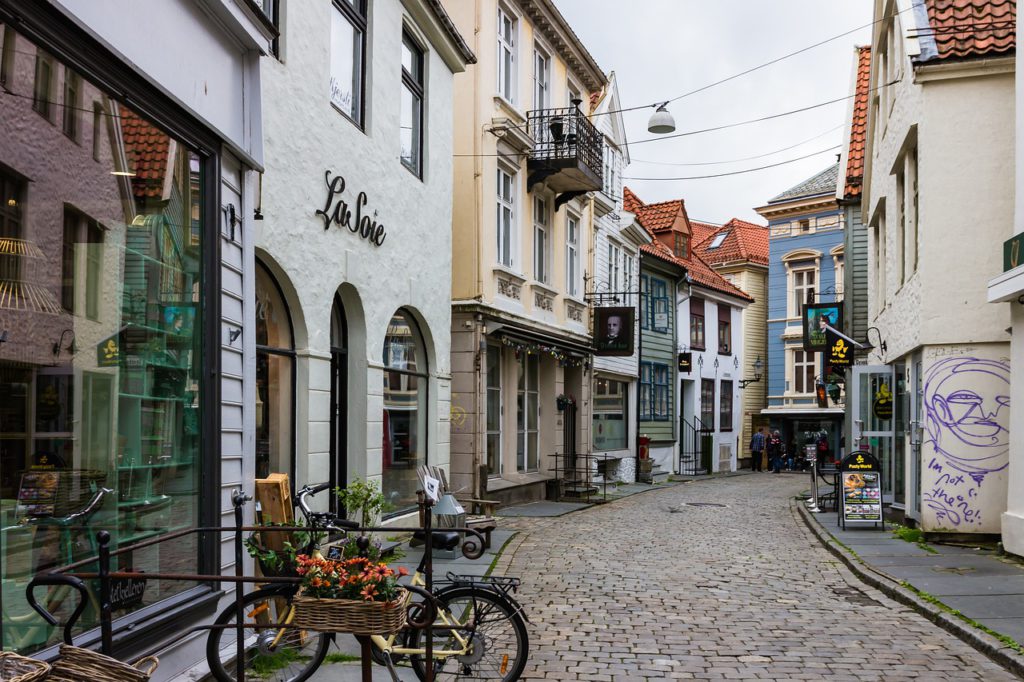 On your way to Norway for an extended stay? Or maybe you're moving away from Norway for a spell? Whichever the case, Stasher's international luggage shipping service can help make it happen.
What's the most vexing thing about travelling? You got it: luggage! So, just for a minute, imagine how luxurious it would be to have a super conscientious, detail-oriented person take over the luggage duties for your big Norway move. They would prepare the shipping labels, pick up your bags and items and make sure it all arrived where it needed to be on time – and all for an affordable price. 
You wouldn't have to traipse through the airport with bags awkwardly dripping from every limb. You wouldn't have to worry about your luggage ending up in Nicaragua instead of Norway. Instead, you could sit back, relax and enjoy the ride. The cherry on top? Your belongings would arrive to you in Norway! Now, doesn't that sound divine? This could be a reality by using Stasher's international luggage shipping service. 
About Norway: The World's Statistically Best Country
Occupying the Scandinavian Peninsula's western strip and bordered by the North Atlantic Ocean, Sweden, Finland, Russia, Barents Sea and Skagerrak Strait, the Kingdom of Norway (more commonly known these days just as Norway) has been around since 872. That's nearly 200 years before William the Conqueror snatched up England!
Norwegian and Sami are the country's two official languages, but Norwegians are famously polyglot. It's tough to find one who doesn't speak English fluently as well as a third romantic language like French or Spanish.
Norwegians also know a thing or twenty about living a good life. The nation consistently tops the Human Development Index ranking, OECD Better Life Index, Index of Public Integrity and Democracy Index. The proudly socialist country also boasts one of the lowest crime rates and is the world's largest oil and natural gas producer outside of the Middle East.
Eight Facts About Norway
Oslo, Norway's capital city, plays host to the annual Nobel Peace Prize awards banquet.
The Sami people are the indigenous Finno-Ugric inhabitants of Northern Norway. In the not too distant past, English speakers commonly referred to the community as Lapps or Laplanders, but the Sami consider those labels offensive. These days, the accepted term is Sami.
All Norwegians enjoy free healthcare and higher education.
Due to its location in the subarctic latitudes, Norway experiences midnight suns in the summer and polar nights in the winter.
Norway has the world's longest road tunnel, the Lærdal Tunnel.
Norwegians introduced salmon sushi to the Japanese.
Skiing was invented in Norway.
The Norwegian King's Guard's colonel-in-chief is a penguin.
Transporting Luggage to Norway with Stasher
Are you moving to Norway? Or going to school there? Or maybe you're heading to the Scandanavian nation for an extended vacation. Whichever the case, Stasher's service can help you ship heavy parcels and suitcases to Norway at an affordable rate!
How can you ship large amounts of luggage to Norway without it costing a small fortune? The luggage fees you'd pay by taking it all with you on a plane, boat or train could break the bank. Traditional removal services are also available, but they cater to people moving a home's worth of furniture – and their prices reflect that. 
Stasher's luggage shipping service is for people who fall somewhere in-between: it's a reliable, affordable service, skilled at shipping suitcases and midsize items, including bikes and sports equipment, anywhere in the world.
Stasher's Luggage Shipping Clients Are Usually:
Students studying abroad in Norway
People relocating to Norway without lots of furniture
Businesses sending supplies to Norway
People spending the summer in Scandinavia
Folks sending care packages to family and friends in Norway
Door-To-Door Luggage Shipping
You're about to breathe a sigh of relief. Ready? With Stasher, you don't need to drop anything off. Instead, we come to you. So, how does the process work?
Go to Stasher's website or app.
Navigate to the luggage shipping section.
Fill out the form and book a reservation.
On the specified date, a Stasher team will be at your doorstep to pick up your parcels.
Like magic, your things will arrive in Norway where and when you indicate.
If you'd prefer to consult a Stasher concierge before booking, no problem! Stasher has won several customer service awards and a real person is always on call to answer questions or walk you through the process.
Round-The-Clock Luggage Tracking and Real Customer Service
Relinquishing control of your belongings can cause the nerves to fray. Your mind races with questions. Will they lose it? Will things break? What if someone opens it? With Stasher's luggage shipping service, you won't need to worry about any of that because we maintain a 24/7 tracking system that is accessible to clients. Simply log into the app, click on the reservation and see the location of your belongings. You can also opt in to have emails and texts sent at every transfer along the way.
Norway Luggage Shipping Tips
Before booking a shipment to Norway, make sure you have the proper visas! First, secure entry, then deal with shipping luggage.
Find an established luggage shipping service. Doing it yourself is more of a nightmare than you think.
Don't assume the first quote you get is the correct one. Plus, if you find better deals, use them as negotiating tools.
Use plenty of padding and pack carefully. Although handlers are excessively careful, things can get knocked around slightly in transit.
Shipping to Norway: Things To Consider
Airport Bag Fees vs. International Shipping Fees
You're prepping for an extended stay in Norway, which most likely involves shipping lots of luggage and a handful of larger personal items, like sports equipment or office furniture. As such, you may be wondering if it is more expensive to pay the airport luggage fees or just have everything shipped? That depends. How much luggage will you have? Where are you leaving from? Does your airline enforce passenger luggage limits? These are all things to consider before shipping items to Norway instead of lugging them along in transit. In most cases, it makes more sense to ship than carry. 
Shipping Bicycles to Norway 
You'll be living in Norway for a while and want to bring your bike. What are the options? You could check it on the plane, train or boat, but it would be a nightmare. Do you want to deal with a crowded terminal while simultaneously managing luggage and a bike? The better option is to ship it. The cost of shipping a bike to Norway is relatively negligible. Yes, you'll need to dismantle it for packing, which a bike shop can do if you're not a DIY type, but once that's done, Stasher will ensure it arrives intact whenever you want at your Norweigian residence.
Please be aware that it can take between two and ten days to get a bike to Norway, depending where it is coming from.
Prohibited Items, Non-Compensational Items and Packaging
Need to ship your clothes, books, dishes and lamps to Norway? No problem, Stasher's got your back. But if you want to import firearms or the family rabbit, you'll need to look elsewhere. Other prohibited items include:
Aerosol products
Perishable foods 
Perishable pet products
Cash, debit and credit cards
Hazardous materials
Medicines
Liquids
Confidential personal documents like passports and birth certificates
Plants
Every country has its own list of prohibited items. To avoid your shipment being held up in customs, learn which items you won't be allowed to pack.
Double-walled cardboard boxes and suitcases are the best packing materials as they can be knocked around a bit. Don't use the delicate or valued luggage. International shipping requires the less-expensive-but-durable stuff. For glass and other delicate items, use bubble wrap, newspapers and packing noodles to keep it protected.
Nowegian Customs Regulations
Norway isn't part of the European Union, so residents of member countries may need to pay import levies, just like people in the United States, Australia, Africa, Asia and the Middle East.
Book a Luggage Shipment to Norway with Stasher
Are you open-minded about using a top-notch luggage shipping service to Norway that won't assault your wallet? Fantastic! Get in touch by phone, email or message. If you already know what you'll be shipping, head to Stasher's website and book a reservation. Once you book, we'll send over shipping labels to affix. On the day of pickup, we'll be at your front door at the time of your choosing. It's that easy.