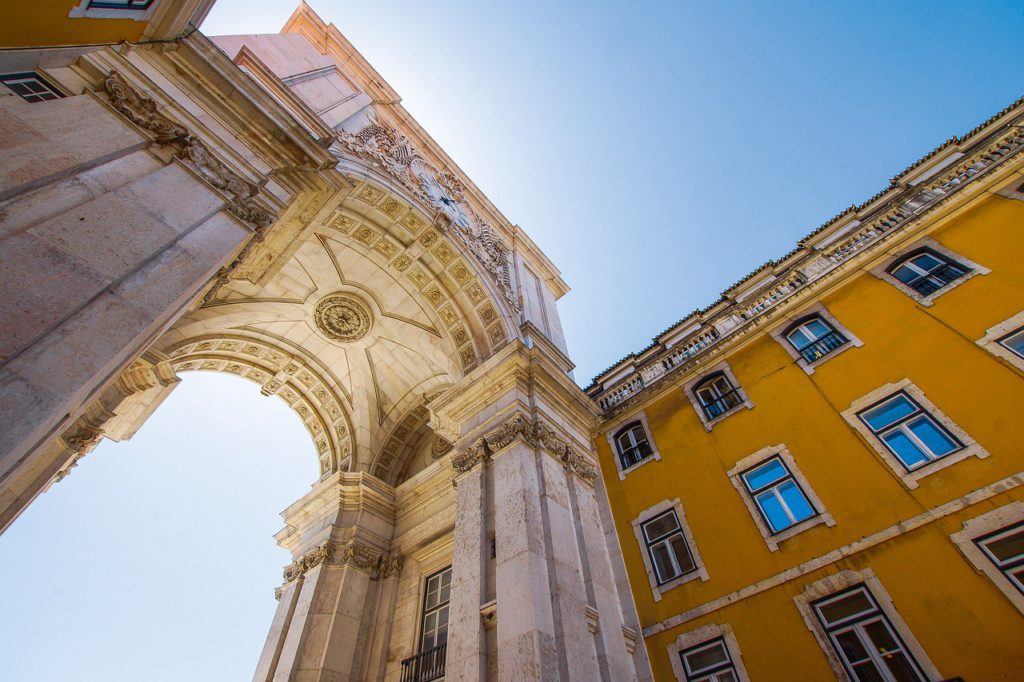 Heading to Portugal for an extended stay? Or on your way out? Whichever the case, Stasher's international luggage shipping service can make the move easy.
Luggage is one of the most irritating parts of travelling. So imagine, for 20 glorious seconds, if someone else – someone hyper-conscientious, detail-oriented and budget-conscious – handled the whole luggage factor for you during the big move. They'd pick up your bags and other parcels wherever and whenever it was convenient for you and then deliver it to your desired destination on time. You wouldn't have to worry about heavy bags dangling from your arms or keeping an eye on them in the airport or station. You wouldn't have to battle other passengers for overhead storage or deal with the bag-shift avalanche upon landing. You could glide through and enjoy the ride without vexatious luggage! This fantasy can be a reality with Stasher's international luggage shipping service to Portugal.
About Portugal
Bordered by the Atlantic Ocean and Spain, Portugal is Europe's oldest nation, settled by pre-Celtic people in the 9th century BCE. Portuguese is its official language, but Spanish and English are also spoken widely.
Known for its incredible surfing, eclectic architecture and palate-pleasing cuisine, Portugal is an increasingly popular tourist destination. Plus, the country's sunny weather, strategic location and affordable living are attracting immigrants from all over Europe, South America and the former Soviet states.
Six Facts About Portugal
In 1139, Portugal first defined its borders, making it Europe's first official nation-state. That same year, the people appointed Afonso Henriques king and the country maintained a monarch till 1910.
Lisbon, Portugal's capital, is even older than Rome!
Portugal is home to Europe's largest bridge, the Vasco da Gama Bridge, which measures 17 kilometers (10 miles).
The Guinness Book of World Records lists Portugal as the place where the largest ever dining table was set. As part of the Vasco da Gama inauguration, 15,000 people sat down to lunch at a table that spanned the bridge's length.
Portugal's University of Coimbra, which opened its doors in 1290, ranks as one of the world's oldest universities.
Portugal is home to the oldest operating bookshop in the world, Bertrand Bookshop. It opened in 1732 and despite a shutdown on account of the country's massive 1755 earthquake, it's been open to shoppers since.
Transporting Luggage to Portugal with Stasher
Are you moving to Portugal? Or attending school there? Or perhaps you're venturing on a long trip and don't want the hassle of transporting large amounts of luggage yourself. Whichever the case, Stasher's service is ready to help you ship heavy parcels to Portugal at an affordable rate!
You could take all your luggage with you on the plane or train, but it will likely cost a fortune thanks to baggage fees. Another option is a traditional removal service, which is the same as an international mover, but those types of companies are geared towards people with loads of furniture to relocate – and their pricing reflects that.
Stasher's luggage shipping service to Portugal fills the gap: a reliable concierge service skilled in getting bags and midsize items, like bikes and sports equipment, anywhere in the world at a price that won't murder your wallet.
Stasher's Luggage Shipping Clients Are Usually:
Study-abroad students headed to Portugal
People relocating to Portugal with only small amounts of furniture
Businesses sending supplies to Portugal
Travellers taking extended vacations
People sending care packages to friends and family in Portugal
Door-To-Door Luggage Shipping: The Process
One of the best things about Stasher's luggage shipping service is you don't need to drop anything off. They come to you, and the booking process is a snap.
Head to Stasher's website or app
Click on the services section and pick a luggage shipping date
Fill out the form and voila!
On the day of your choosing, a Stasher representative will arrive at your doorstep and collect your things
Like magic, your shipment will arrive wherever and whenever you want it in Portugal
Luggage Tracking and Customer Service
It's nerve-wracking to relinquish control of your belongings. Will it get lost? Will someone riffle through it? But Stasher has a nerve-calming solution: 24/7 luggage tracking. You can trace parcels from pickup all the way to arrival. Just log in to the app and click on your reservation to keep tabs on the journey of your luggage to Portugal. You can also choose to have emails or texts sent to you at every transport milestone along the way.
Stasher takes customer service seriously and we do it the old-fashioned way: with real-life humans! Over the years, we have won several travel hospitality awards for our superior customer service, a quality you need in an international luggage shipper.
Portugal Luggage Shipping Tips
Before you make plans to ship your things to Portugal, make sure you can get into the country! Like every country dealing with the COVID-19 pandemic, restrictions abound.
Find an established shipping service. Do a deep dive into company reviews.
Shop around! Don't assume the first quote you get is the best. Also, if you find more affordable options, use it as a negotiating tool.
Invest in plenty of padding and pack carefully. Although handlers are assiduous in handling each parcel perfectly, unavoidable jostling occurs on all trains, planes and trucks.
Shipping Bicycles to Portugal
You're moving to Portugal for a bit and can't bear to part with your bike. What are your options? Technically, you could check it on the plane, boat or train. But let's be honest, that would be a major pain. So what's the better option? Shipping it. The negligible cost to ship your bike to Portugal is well worth it. But how, you ask? Just get in touch with Stasher's shipping concierges. They'll answer any questions and explain the easy process.
You'll need to dismantle your bike for shipping, which you can either do yourself or pay a bike shop to complete the task. Stasher will make sure your wheels arrive precisely when you want, without dings and broken parts, at your Portuguese residence. Please note it can take anywhere between two and seven days to ship a bike to Portugal, depending on its original location.
Prohibited Items, Non-Compensation Items and Packaging
Need to ship clothes to Portugal? Small furniture? Sports equipment? Electronics? Dishes? No problem, Stasher has you covered. However, if you want to send over firearms or the family cat, you'll need to find another service. Other prohibited items include:
Aerosol products
Perishable foods and pet products
Cash, credit and debit cards
Hazardous goods
Medicines
Liquids
Confidential personal documents like passports and birth certificates
Plants
Every country has a list of prohibited items. If you don't want your shipment to be held at customs, make sure you don't pack them!
When it comes to packing your luggage for Stasher, suitcases or double-walled cardboard boxes are best. But don't use any valued luggage because the likelihood of it getting a ding or scrape is high when shipping internationally. Also, Stasher's insurance doesn't include packaging damage. For trinkets, glasses and delicate items, use plenty of bubble wrap, newspapers and packing noodles to keep everything intact.
Portuguese Customs Regulations
If you're shipping to Portugal from within the Europe Union, you likely won't need to worry about import or export levies. But with Brexit looming, it's unclear if shipments originating in the United Kingdom will be subject to duty taxes. Packages coming into Portugal from all other countries, including the United States, Australia and China, must carry a customs invoice.
Many countries offer a duty-free deductible, but knowing which ones do and how to properly apply it requires experience — another reason to use an experienced shipper like Stasher.
Book Your Luggage Shipment to Portugal with Stasher Today
Ready to talk to Stasher about a shipment to Portugal? Reach out by phone, email or message. If you know what you'll be shipping, skip that step, head to the instant quote calculator online and book your reservation. Once you reserve a date, we'll send you shipping labels that you'll need to attach onto your luggage. On the day of pickup, we'll be at your front door at the time of your choosing. It's that easy! Get started today.