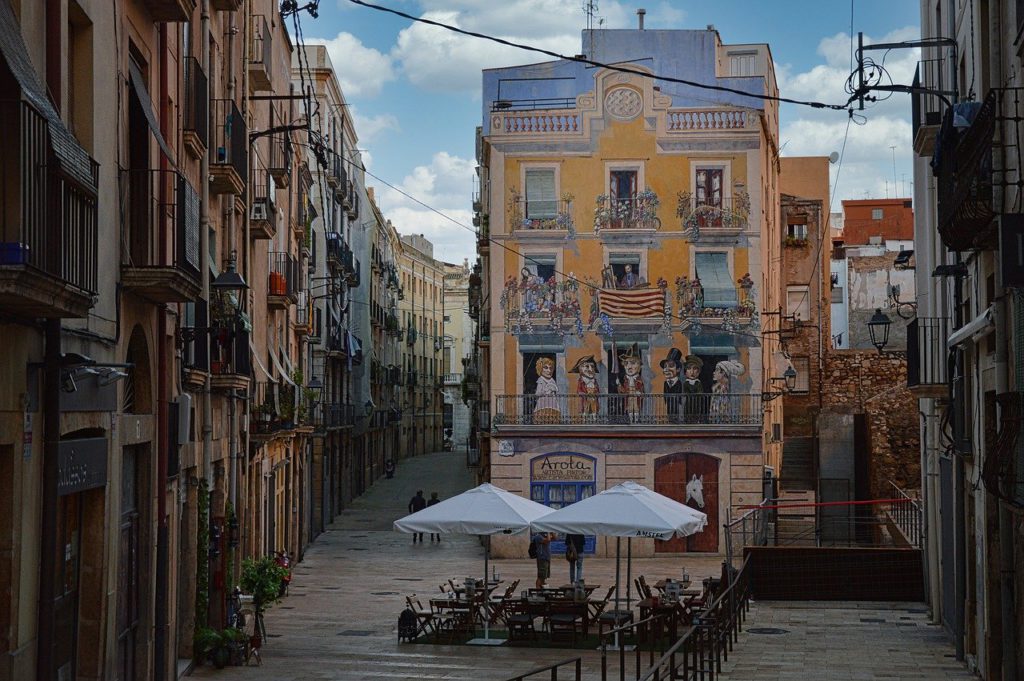 Need to ship luggage to or from Spain? Maybe you're looking to send a care package to a loved one studying in the country? Or perhaps you have an upcoming business pitch and need to send over supplies? Whichever the case, Stasher's international luggage shipping service can handle it.
What's the worst thing about moving to another country for more than a month? You got it: dealing with luggage. Instead of fighting your way around a terminal weighed down like a pack camel, imagine breezing through with a rucksack and nothing more. How can you turn this fantasy into reality? By using Stasher. We'll prepare the packing labels, pick up your parcels and get them exactly where you need them to be on-time – and all this is for a budget-friendly price.
About Spain
The largest country in southern Europe, Spain – officially the Kingdom of Spain – is the only European country to share a border with Africa on account of Morocco. Spanish is the nation's official language, but many denizens also speak English fluently. Additionally, Catalan, Basque, Galician and Aranese (regional patoises of Spanish) are also spoken in certain areas.
Spain enjoys a rich culture and stunning landscape. Golden beaches hug the shores and buildings dating back to ancient times still stand in some places.
Six Facts About Spain
"Don Quixote," the first modern novel, was written by Spaniard Miguel de Cervantes.
There are more Spanish speakers in the world than Anglophones.
Spain has a whopping 44 UNESCO World Heritage sites.
Nudity is legal in many parts of the country.
Spanish culture is laid back and residents spend an average of 16 hours a day relaxing.
Spain is home to the world's oldest restaurant, Restaurante Botín, which has been in business since 1725.
Transporting Luggage to Spain with Stasher
Stasher's international luggage shipping team will make sure your belongings arrive on time and intact. When you have a large amount of luggage to transport, you have three options:
Take it with you: The extra baggage fees will be extraordinary, but you can lug your luggage on the plane, train or boat with you.
Removal service: Hiring an international removal service is another possibility. But they're for large furniture moves and come with the concomitant price tags.
Luggage shipping service: The middle-of-the-road option is a luggage shipping service like Stasher. It's convenient and won't bankrupt you.
Stasher's Luggage Shipping Customers
Study-abroad students headed to Spain
People immigrating to Spain without large furniture
Businesses shipping supplies and documents to Spain
Travellers spending a month or more in Spain
People sending presents and care packages to family and friends in Spain
Door-To-Door Luggage Shipping to and from Spain: The Process
The best part about Stasher's international luggage shipping service is that we come to you. Instead of lugging your cargo to a dropoff location, our friendly and professional Stasher team members will arrive at your home to collect everything. Here's how it works:
Head to Stasher's website or app
Navigate to the international luggage shipping section
Fill out the form and secure a reservation
On your reservation date, Stasher will retrieve the parcels from your door
Your shipment will arrive in Spain wherever and whenever you've indicated
Nervous about booking online without speaking to anyone? That's not a problem. Stasher maintains an award-winning customer service department and you can always reach a live person who can help you with any questions or concerns.
International Luggage Tracking
If you're like millions of people around the world, the thought of handing over your belongings to strangers and entrusting them to get it where it needs to be can be anxiety inducing. Will they lose it? Will they break things? Will it arrive on time? Stasher solves this problem by building a 24/7 tracker into its platform. If you're wondering where your stuff is, just log in and take a look. You can also choose to have text messages sent to you along every step of the way.
Spain Luggage Shipping Tips
Secure the right visas before booking shipments to Spain! Then deal with shipping luggage after.
Work with a luggage shipping service (like Stasher). Doing it yourself can quickly become a nightmare.
Get multiple quotes and use them as negotiating tools.
Pack carefully and use plenty of padding. Although shippers are extremely careful, things can get tossed around in transit.
Shipping Bicycles to Spain
To ship a bike internationally, you'll need to disassemble it, which can be done at home or at a repair shop. Once that's done, the shipping cost is often less than people assume. Please be aware that it can take two to ten days to get a bike to Spain, depending on its point of origin.
Prohibited Items, Non-Compensation Items and Packaging
Need to ship your clothes and personal belongings to Spain? Some supplies, books, dishes and lamps? Stasher's got your back. If, however, you want to ship firearms or live animals, you'll need to look elsewhere. Other prohibited items include:
Aerosol sprays
Perishable foods
Edible pet products
Cash, debit and credit cards
Hazardous materials
Medicines
Liquids
Confidential personal documents like passports and birth certificates
Plants
Every country has a list of prohibited items. If you don't want your shipment to be stuck in customs, find out what they are and don't pack them!
The best types of packaging to use when shipping your luggage are strong suitcases that can afford to be knocked around a bit and double-walled cardboard boxes. For delicate items, use bubble wrap, newspapers and packing noodles as padding.
Spanish Customs Regulations
Spain is a part of the European Union, so if you're shipping from another EU nation, there won't be any import levies. Individuals outside the EU like the United States, Australia, Africa, Asia and the Middle East may incur some duties, depending on the load size.
Secure Luggage Shipment to Spain with Stasher
Need a reliable, detail-oriented luggage shipping service to Spain that won't break the bank? Get in touch with Stasher by phone, email or message. If you already know what you'll be shipping, head straight to Stasher's website and book a reservation. Once you book, we'll send over shipping labels and on the day of pickup, our team will be at your front door on time, ready to move. It's that easy. Reach out today.