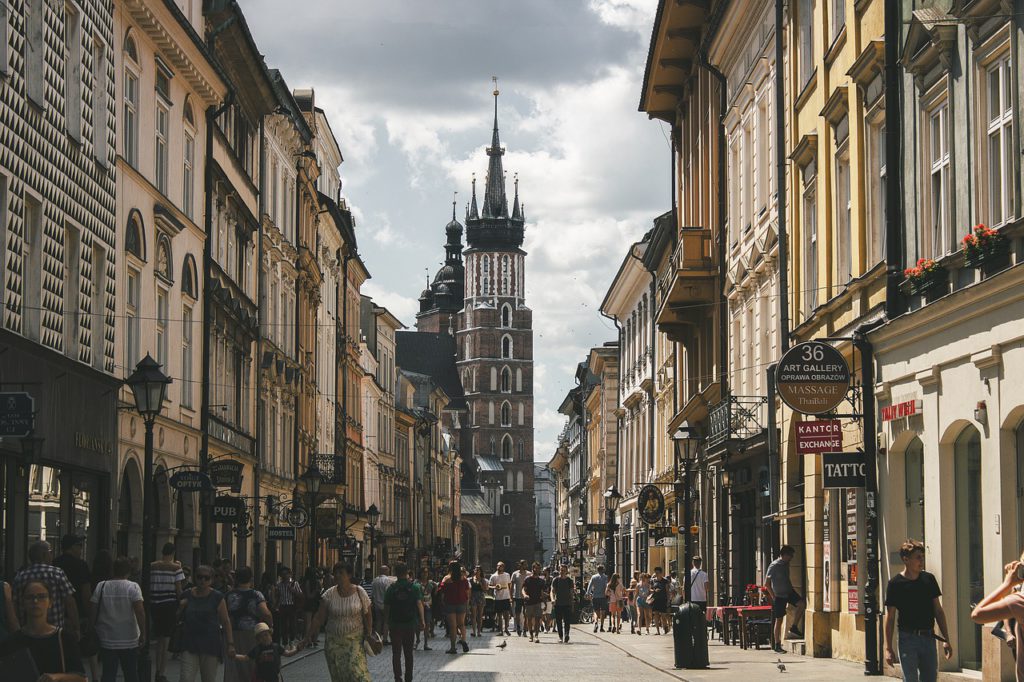 Are you traveling to or from Poland? Stasher is an excellent shipping company that can help you with transporting your luggage and bags.
When you travel from one region to another, you must ensure that you have an outstanding luggage shipping company that will transport your luggage for you. Stasher primarily offers exceptional services in shipping luggage to Poland and many other countries worldwide. Stasher has a team of elite status that ensures the safety of your luggage by using an online tracking system. Our team of professionals offer clients a support system that answers any questions and responds to any concerns, ensuring you can breathe easy when travelling.
About Poland 
Based in Eastern Europe with a population of over 37 million people, Poland boasts of a rich Jewish heritage and medieval architecture, making it a wonderful country with rich tourism.
Five Facts About Poland 
The word 'Poland' comes from Polanie, meaning people who live in an open field. 
It is among the largest countries in Europe, ranking at number nine.
The country has a complicated history as it disappeared from the map between 1772-1795. 
During World War II, it was almost destroyed and had to be built up again.
Poland has great lakes, forests and mountains.
Shipping Luggage to Poland with Stasher 
Generally, if you have been given a transfer to Poland or if you and your family are relocating, you may want to take all your belongings with you. However, because of the minimal weight allowance on an airplane, it is impossible to carry substantial cargo. While it is possible to get an international removal company to transport your luggage, the charges may be too costly. So, what is the best way to ship luggage to Poland? The only viable alternative of sending your cargo to Poland is using the services of an efficient luggage company like Stasher.
Who Can Use Stasher's Services? 
This service is for anyone. Whatever your reason for sending baggage to Poland, whether you are studying abroad or simply sending a care package over to a loved one, we are always ready to transport your luggage. You'll receive value for money with our convenient and excellent shipping service. 
Customer Support and Online Luggage Tracking
We aim to provide you with the best shipping experience together with a remarkable service. Our support team keeps you up to date with your luggage while in transit via texts or emails. Moreover, if you have any concerns or questions regarding the shipping process, someone will always be there to respond via a live chat or phone call. 
We offer a full online tracking service that enables you to monitor and keep track of your luggage at every stage, saving you the stress of continually worrying about the safety of your luggage. 
Send More than Just Suitcases to Poland 
Stasher enables you to ship luggage that would be unsuitable or too expensive to travel by airline. For instance, if you have massive cargo that your airline terms as oversized for a plane, Stasher would be an excellent choice for you. With us, you can ship all your luggage, regardless of the size, conveniently. Common examples of baggage you can transport with us that are not suitable to be transported by plane include bicycles, golf equipment and skis.
Shipping Boxes to Poland
You can send boxes to Poland with Stasher. If you have a friend or a family member staying in Poland and want to send them a gift or a care package, the most convenient way of doing so is by using our shipping services. However, you should ensure that you are well aware of our regulations when it comes to sending gifts and packages. You should also package your gift in a well-sealed box for it to be suitable for shipping.
Send Your Bicycle to Poland
If you visit Poland on a holiday, you may want to spend some time cycling in its exceptional environment. Poland is an ideal location for cycling and it's best to ship your own bicycle instead of renting one. Shipping your bike instead of renting one will save you money, as you can ship your bicycle with Stasher for an affordable rate.
Shipping Your Golf Clubs to Poland
Surprisingly, Poland is an excellent destination for golf so if you love golfing, it is the perfect holiday destination for you. Stasher offers you a comfortable and ideal way of transporting your golf clubs to Poland, helping you save money hiring equipment over there.
Prohibited Items, Non-Compensation Items and Packaging
While Stasher is an exceptional shipping company for many types of luggage, there are some items we cannot ship. As such, we do not offer compensation for these products. The following items are prohibited:
Aerosol products
Perishable foods 
Perishable pet products
Animal products
Cash, debit and credit cards
Hazardous materials
Dangerous goods
Medicines
Liquids
Confidential personal documents like passports and birth certificates
Plants
When you want to send a piece of luggage to Poland, it would be best for you to use a good, sturdy suitcase or a suitable box that is strong to hold your items for shipping. When shipping your luggage with us, please do not use a fragile or expensive suitcase as we do not cover packaging in our compensation plan. Generally, you should ensure that your packaging is strong enough to protect your belongings. 
Polish Customs Regulations
If you are shipping luggage inside the European Union, your luggage is not required to pass through customs clearance as it is not subject to any form of tax. On the other hand, if you are shipping your luggage from a country outside the European Union like the United States, your luggage will be taxed accordingly. We advise that you check the official government website to find all the rules regarding what you must do if your luggage will be coming to Poland from a country that is not in the EU. This will include attaching a detailed packing list onto every piece of luggage. Stasher does not have any control over customs, so please follow all the rules to avoid having your baggage held up or sent back.
Convenient and Easy Online Booking Process
At Stasher, we strive to ensure that all our services are at the convenience of our clients, which is why we have made our booking services easy and convenient for you. You can book for our services at the comfort of your home at any convenient time for you. You choose both a date and time of a pickup and a date and time of dropoff at your chosen destination. Our online system simplifies everything for you and once you have booked a shipping service, all that's left to do is print and attach the labels we send you. Stasher is a customer-centred service and we improve our services daily to enhance our customers' experience.