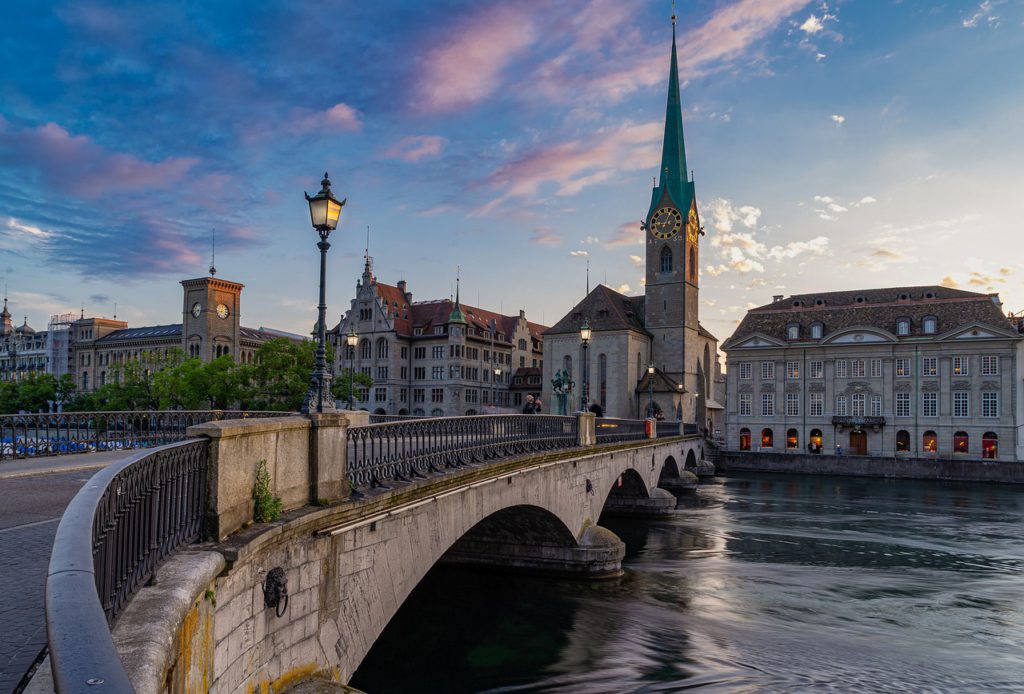 Stasher's excellent prices, easy scheduling system and door-to-door services make international travel easier.
About Switzerland
Switzerland is a magnificent country in central Europe with majestic mountains, shimmering lakes, the towering peaks of the Alps and charming villages. Medieval quarters are found in the cities with landmarks, including Lucerne's wooden chapel bridge. Switzerland has a worldwide reputation for ski resorts, chocolate, hiking trails, cycling and snowboarding.
Although there is no Swiss language in existence, the four languages considered official are French, Romansh, Swiss-German and Italian. When you are travelling to Switzerland, Stasher offers affordable, convenient and extremely fast luggage shipping services. You can save money and stress while travelling with luggage collection from door to door. Stasher allows you more time to enjoy your trip.
Shipping Luggage to Switzerland with Stasher
Stasher bookings are easy with a 24/7 online booking system that requires just a short time to complete. Visit our homepage to receive an instant quote. Stasher is flexible, enabling you to select the preferable date for your collection while booking. Once your booking is complete, we will send you printable shipping labels for attaching to your luggage.
Stasher can be used by everyone, including those moving to a new home, expats, holiday makers, students and business users. No matter the reason, Stasher offers you fantastic shipping services door to door at competitive prices.
Stasher offers you the ultimate convenience for transporting your luggage, boxes and packages to Switzerland. Our online booking process is easy to use and you can accomplish everything from your own home. Due to our delivery services and door-to-door collection, the need to bring your items to a dropoff point is eliminated. Our effortless process ensures you do not have to collect your belongings once you reach your destination.
Stasher's Luggage Shipping Clients Are Usually:
Sending a special package to friends and family
Shipping bags due to a business relocation
Moving abroad with family easily
Sending belongings to Switzerland for studying abroad
Sending luggage in advance for a vacation
Stasher makes shipping your bags to Switzerland easy, no matter where you are located. Whatever your reasons for travelling to Switzerland are, we offer an exceptional weight allowance to enable you to send as many bags as you desire. The few pieces of luggage allowed when flying are rarely enough, which is one of the reasons Stasher offers a more affordable option.
Relocating to Switzerland is expensive so Stasher helps you reduce those costs. You should consider donating or selling large items like furniture, then shipping only the essentials with us. You can ship massive boxes and suitcases at surprisingly low rates. If you need to ship heavier items, that is fine with Stasher for an extra fee.
You can even ship items that are generally hard to transport, including musical instruments and sporting equipment. Most airlines classify these items as oversized, resulting in an expensive additional fee. If you are unsure whether or not something can be shipped, simply contact our helpful team.
Shipping Skis and Boxes
Many people travel to Switzerland to cycle, snowboard or ski around the gorgeous scenery and mountain ranges. You can save money by shipping your equipment as opposed to renting when you arrive. We will ship all your equipment ahead at great prices. Stasher is also an excellent option for sending special packages and gifts to your friends and family in Switzerland.
Online Luggage Tracking
Stasher keeps you informed regarding the current status of your items, from the moment of pickup to the moment of dropoff. You'll have complete access to online tracking information of your luggage. We can even provide email and text notifications.
Dedicated Customer Support and Low Rates
Stasher understands most people are somewhat apprehensive about placing their personal belongings into the hands of a delivery driver. Because of this, we go to extra lengths to offer you an international shipping service you can trust. If you have any concerns or questions during the process, we encourage you to call our dedicated support team because they are there to help. We have lots of logistics experience and are experts in shipping your luggage to Switzerland. You can contact us through your choice of phone, live chat or email at any time.
Switzerland Luggage Shipping Tips
Obtain multiple quotes for comparison
Research customs and quarantines for Switzerland
Only use a reputable international service for shipping
Package everything securely with lots of internal cushioning
Select a service offering transit times suitable for your needs
Prohibited Items, Non-Compensation Items and Packaging
Although Stasher ships all the personal belongings that are usually located in a typical holiday suitcase, specific items are prohibited due to customs and security. The following items are prohibited:
Cash, debit and credit cards
Confidential personal information including passports
Medicines
Furs
Aerosols
Precious stones and metals
Perishable foods
Hazardous goods
Dangerous goods
Antiques
Animal products
Jewellery
Plants
Liquids
When Stasher ships your belongings, we recommend either strong boxes or suitcases to package your items. Everything needs to be appropriate for transit and we recommend against expensive or fragile suitcases, since our compensation cover does not include packaging.
We also recommend investing in sturdy cardboard boxes with double walls for durability throughout transit. If you need to ship delicate or fragile items, protect them during shipping with internal packaging like newspapers or bubble wrap.
Swiss Customs Regulations
By Swiss law, you must fill out a customs declaration to include with your shipment. If this invoice is not attached, your luggage will be stopped at the border. You may be charged to have your shipment returned. Stasher gives you the customs documents you need to fill out, then attaches everything to your shipment, so it should clear customs fairly quickly without taxes or duties.
The duty-free allowance for many countries is generous regarding your personal effects. Since the allowances and processes vary throughout the world, we recommend researching the quarantine rules and regulations for Switzerland before sending your luggage or packages. You need to be aware of any possible customs duties in the country.
Stasher does everything possible to ensure shipping prices remain as inexpensive as possible. Booking with Stasher as opposed to directly booking with a courier can save you up to 80 percent of your money. Contact us for a quote and enjoy your time in Switzerland!