Luggage storage
in trusted hotels and shops
Store your bags in 3800+ trusted Stashpoints in more than 890 cities worldwide
£2,500

guarantee included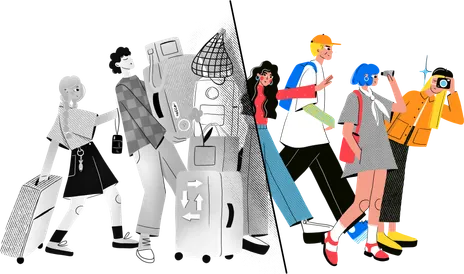 How it works
1

Find and book luggage storage on our map.

2

Pay quickly using any of the secure methods we offer.

3

Store your bags at verified hotels and shops.

4

Collect your bags later, after enjoying a luggage-free day.
Thousands of customers use us every day, here's why
Half the price of station lockers

Fixed price per bag per day. No size or weight restrictions!

100% Money back guarantee

Free cancellation on all unused bookings and a full refund if you're not satisfied.

99.99% bags stored safely

All bags stashed with us are guaranteed against loss, theft & damage.

24/7 Support

You can always contact our award-winning customer support team should you have any questions.

3800+ Stashpoints

Find us in over 890 cities and more than 80 countries.

Book in less than 2 minutes

Get instant online confirmation to show in store. Book now
Here's what customers are saying about us
All very good, nice place and a very good pepople working, we are very happy about the service.

Very good idea, no problems at all

all perfect

Everything handled to perfection, great service to provide and staff at impressions very friendly and helpful 

Everything was good!

Very happy with service in central location.

Everything proceeded smoothly and as described.

Very easy

Booking simple and it was wonderful to spend the last few hours before heading off to airport without wheeling luggage about. 

Easy peasy, but ...

Friendly helpful staff! Really easy and convenient! Thank you

Very useful and convenient I will never do otherwise now I know Stasher

Super recomendable!

Easy to organise and good value, never done this before but was really helpful 

Awesome

Very easy.

friendly staff

Easy to access and close to the city centre, very convenient.

Easy to find, polite staff, easy pick up. Perfect thanks.

Parfait ! 

.

Fácil

All ok

The plataforma is very easy to use and there are a lot of places along the city to store our luggage

Todo fue correcto. Muy amables.

Super easy

Good Experience 

Muy bien todo. Muchas gracias. 

Easy to book, easy to use.

Very easy process

Perfecto

Excellent service 

Very easy to book and nice staff very easy to do so glad I found stashed and the King's Cross premier inn

Easy and quick to book

Easy and convenient

The website is pretty simple to use.

Everything went well

Super easy

とても素敵なスタッフでした!ありがとう!

Great idea and easy to do. It freed us up to spend the day bag free, until we could book into our apartment.

Easy to use and find location for leaving luggage.

Easy to use!

Easy to use on web, difficult on the app

Easy to use and works like a charm

Easy efficient booking process 

Great place to drop off bags and best burgers in Tottenham. Amazing! 

Fab staff, very efficient

Fast and efficient

Very easy to drop off and pick up

Very nice

Very good

Easy, cheap, convenient and close to station

Very convenient to drop off luggage's before Airbnb check in. Super fast too

Easy to drop off, friendly staff.

Hotel next door to the railway station so a few minutes walk and we were able to drop our bag very easily. Staff friendly and accommodating.

Easy to use

This is the best concept. Use stasher all the time, it's given me so much more freedom to make the most of busy trips

Very easy to book and amend times if needed  Hassle free drop off and pick up, Thankyou will definitely use again 

Super easy. Reliable 

Search worked well, even the day of needing to stash.

Muy cerca del British Museum. Rápido checking.

Rápido,.fácil y sencillo.

The luggage was stored in a locked room

Easy and convenient to use!

very handy. Superb!

Rápido,fácil y caro.

Easy to use and fast

Very good

Easy to book and very reasonable pricing

Very great

Easy and simple

Fácil de usar. Y hay que actualizar la imagen que aparece al hacer la reserva,ya no está así la oficina .

Easy to use.

Very easy to use. Clear.

Great and easy to use 

The drop off was easy, friendly reception, correct. No waiting at pick up either. Great service.

Good handling, everything ok

Easy to use.

Super easy and fast! Recommended!

Really easy to find a suitable location and to make the required payment.

.

Very easy to use 

Easy to use booking system and after sales support.

No issues. Easy to book

Good

Great!

Muy fácil de usar, todo muy claro.

Easy to use app- find your location, book in your bag, drop it off… job done! Will use again. 

Friendly staff, good service

A first for me and I'll definitely use again So easy 

Great service. 

Very easy to use and useful

Very good. Everyone really helpful

Good

Very good service

Life saver app and an amazing experience to storage bags.

Easy to locate and book a reservation! Kudos!

Excellent service

Very easy to use and a good choice of locations. Good price.

Sencilla de usar. Tener en cuenta que el precio aumenta por comisiones

-

All good!

Reserva rápida y sencilla. Muchos puntos donde poder dejar el equipaje. Bien de precio.

Easy to book and competitive price. Very satisfied.

Easy

Intuitivo e veloce da usare

Easy to find, no wait, no secure, no issues

Everything went great!

Really useful and friendly service, extremely handy for Winter Wonderland.

Great, reliable place.

staffs are friendly and efficient

Fácil. Rápido y sin problemas. Perfecto

Easy to book, reasonable price, would definitely use again.

Easy to use

Easy and fast

Easy to use website, ordered by closest to me

Hotel staff kind and quick to stash and return luggage. 

Everything went easy and smooth.

Booked on the day, easy to do. No problems

Great service and good location !

Easy to book

The perfect place, for a great price. 

Very easy site to book on to leave your luggage 

Easy to use 

Really easy process, friendly and helpful staff 

Brilliant. Just brilliant. 

I'd never used a luggage storage facility in Sheffield before, so googled and found Stasher. It was very easy to book and had a good choice of storage venues nearby. 

Seemless process

Hyper pratique. Simple à utiliser

Easy to use

easy and efficient.

Perfecto

Very good experience 

First time using the App. Even called the stashpoint to make sure it was for real. Very easy, convenient, and reasonably priced.

all perfect

Easy to find a location close to our Airbnb.  Payment and information was easy to follow.  So glad our Airbnb shared Stasher info.  

Very good

excellent

Great. All very straightforward to organise.

Fantastic place to use, good location and very informative 

Rápido y fácil 

Location to the Central Station is ideal.

Very fast & efficient service

Fácil de gestionar.

Very simple, easy to book

So easy to arrange a few clicks and it all sorted. Will definitely use again in the future. Highly recommended

Secure and easy way to Store your luggage during the day!

So easy!

Simple , easy to find, no fuss - great service 

Staff was friendly and helpful. Price is reasonable.

Easy to use

Great. Easy quick efficient

Great platform 

As a first time user of Stasher I was very impressed with the choice of drop off locations and the ease of using the service. I will definitely use again. 

A really positive experience and happy to have found this service.

Super easy 

Easy to find shop, efficient service, so easy and simple. And good value. Love that 

Very easy to book

Easy to find and choose locations and to book.

Easy and convenient 

Convient, good value, easy to find and friendly staff. Great to have this service available to leave bags and visit the Winter Wonderland.

Polite helpful lassie. No hassle.

Bastante cercano, a 2 calles.

Bastante cercano, a 2 calles.

Excelente servicio y confiable. 

All good

Really straightforward and easy to use

Brilliant and trouble free. Great idea to be able to leave your luggage so you can enjoy your stay in London carefree. 

Easy to use, good info. Helped with our trip, gave us extra time in the city without out luggage

Great & easy to use!

Дуже зручний сервіс 

Quick and easy! Great service. Would use again!

Easy to use. Much cheaper than storing luggage in the train station

First time Stasher user - very straightforward and would definitely use again. 

Perfect !

Very nice and easy.

Easy to use and plenty choices near where I wanted to leave my bags

Inexpensive and simple to use

So easy! Im so glad I know this service exists! Made my travel plans so much easier. Thank you!

So kind!! Eveything so well, I highly recommend!

Amazing service!

Brilliant idea to save lugging your bags around 

Very easy to book and loads of locations available to suit everyone's needs. 

Quick and easy to use, bags were safe and secure, easy collection process. Nice and central location.

easy process

Easy.

Easy to use

Thank you Stasher - Great Service and very good app

So good!

Platform is simple and quick. Concise directions!

It was incredible i hope coming again!! As soon as possible 

Fácil de usar y útil!

Drop off at Mail Boxes Etc Windsor very professional.  The gentlemen extremely great customer service thank you 

Kind and helpful staff who took my luggage and on return allowed me to use their facilities AND filled my water bottle on request. Greatly appreciated.

Excellent

Perfect service! easy to get and easy to use

😊 thanks

Convenient location, friendly staff and easy to book

Staff ok. Check-in and check-out was good

easy

Needed to use as couldn't take our suitcases to the theatre. Worked perfectly.

very good experience,convenient and friendly,i will use stasher again and thanks for the shopkeeper's help.

Very efficient.

Everything was ok.

Todo muy fácil y muy buena atención.

Easy and convenient 

Everything worked wonderfully.

Quick and easy!

Super easy and quick. Stashed my bag here for the Spurs game on Sunday and it's right there on the High Road.

Using Stasher prior to the Spurs soccer game was easy, fast and a great experience. Would highly recommend. 

friendly staff

Super easy and super fast. 

Easy to use and solves a real life problem.

Efficient, great location,busy place but no problems

Thanks for making our movements easier Stasher.

Buena

Simple to book. Good price.

Excellent

Very easy and simple. I always come back to this site!

Convenient. 

Very good location and very convenient because of the closeness to St Pancras station

Simple d'utilisation, parfait pour trouver efficacement et rapidement une consigne.

Einfach zu buchen 

Wow what a fantastic idea! Travellers can leave their luggage safely and for a minimal cost. Didn't know about this until today and so good it is worldwide. Easy to use app.

Stasher.com was so easy to use. We needed to make a few amendments to our bookings and it was easy to do so on the website.  

Great service and really close to the shopping area. 

Stasher was so easy to use and navigate to find appropriate drop off points. Thanks for a great service. It allowed us to use the last day of our holiday luggage free.

Très pratique et facile

First time using stasher, gave lots of options some were full so if I had been more organised would have had more options. Map view very useful. 

First time using this app. Easy to navigate and we had our bags dropped within 8 minutes of booking. 

Très bien pour visiter le bateau de la reine 

Great service! Very simple and good value for money

Great booking, was easy to pick the location I wanted & booked very easily.

Excellent service 

Brilliant idea, meant I could take a bag for my long train ride without having to take it into the football

Facile da usare.

Seemed safe and professional. Very friendly staff.

all correct!

No la conocía y la verdad re practico !!! Lugares céntricos para dejar tu valija.

Quick, easy & cheap!

Very easy and fast

Very good 

Super easy, no fuss, and very friendly staff

I'll be back – great experience

Great service.

Very convenient, friendly service, located near where we wanted to spend time between 2 flights on the same day.

Easy access , quick in and out 

Life saver for leaving our suitcase safe whilst shopping before we can check in our hotel

Todo ok

Excellent location Very efficient Great price

Everything ok

Quick and easy both dropping and collecting 

Easy to use. Clear instructions. 

Easy to find. Easy to book.

Muy buena atención. Lo recomiendo

Todo perfecto muy seguro y cerca de la estación de Liverpool street

Convenient and fast

Was fine

Very friendly and helpful.  Made things very easy.  Highly recommend.