Luggage Storage
In trusted hotels and shops near Roma Termini
201 Stashpoints in Rome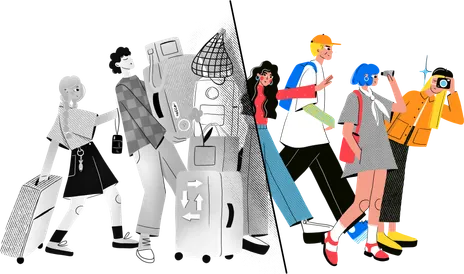 How it works
1

Find and book luggage storage on our map.

2

Pay quickly using any of the secure methods we offer.

3

Store your bags at verified hotels and shops.

4

Collect your bags later, after enjoying a luggage-free day.
Thousands of customers use us every day, here's why
Half the price of station lockers

Fixed price per bag per day. No size or weight restrictions!

100% Money back guarantee

Free cancellation on all unused bookings and a full refund if you're not satisfied.

99.99% bags stored safely

All bags stashed with us are insured against loss, theft & damage.

24/7 Support

You can always contact our award-winning customer support team should you have any questions.

3000+ Stashpoints

Find us in over 600 cities and more than 50 countries.

Book in less than 2 minutes

Get instant online confirmation to show in store.
Here's what customers are saying about us
Buchung war sehr einfach uns schnell

Absolutely loved not having to carry my bag around with me before I could check in to my stay!

I love Stasher! Easy to book, lots of choice of locations, cheaper than storage at the train station, and even easy to cancel if your plans change.

Todo funciona fluido, me gustó bastante el proceso y el precio está bien, de seguro se lo recomendaré a mis amigos.

Very quick and easy, for someone who isn't always best with instructions I had no issues! Highly recommend :)

Sehr gute und unkomplizierte Möglichkeit der Gepäckaufbewahrung während unserer Tagestour in Paris. Die Koffer wurden in einem sauberen Kellerraum mit Videoüberwachung aufbewahrt. Der Zugang zu diesem Raum war unberechtigen Personen nicht möglich. Das Personal des Geschäftes war sehr freundlich. Gerne wieder!

Easy to use booked online you get a confirmation email with full address of location drop bag off away you go,pick bag up great service

Había muchos sitios para escoger donde guardar el equipaje. La reserva y pago muy sencillo.

The Stasher app is so easy to use. You just enter your location, choose the place most convenient for you and book your time slot, then pay…job done!

Easy to use, can't believe I have just found Stasher! All those times I have been carrying my bags around!

Easy to use and easy to cancel and get a refund if your plans change.

Easy to use. Just put in where I wanted and it showed me all the drop off points available and i could choose the most convenient for me.

It was overall an easy and smooth experience. Staff and location of storage are all pleasant. Highly recommended!

Procedura di prenotazione, semplice ed efficiente, siti tutti facilmente raggiungibili. Una ancora maggiore capillarità dei centri di raccolta sarebbe auspicabile.

Es muy fácil registrarte y reservar para dejar tus maletas en un punto cercano. Además cuenta con bastantes puntos en la ciudad donde lo he utilizado.

I was a bit nervous about it since it's sometimes hard to know what to trust on the internet, especially in a foreign country. I actually went over to the drop off beforehand without my bags to make sure everything looked legit. But it all worked out perfectly, and it seems like a great operation. I'll definitely start here next time I need to store bags when traveling.

Such a great concept which gave us sightseeing time before our late flight without the hassle of carrying our luggage.

Super simple to use, wish I'd known about this years ago, if you travel why would you not use this.

Great app! Easy to navigate and pay. Offered multiple sites in the area of town we wanted to explore. Definitely took the worry out of what to do with luggage while sightseeing.

Lifesaver when you're travelling with lots of luggage.

Very easy and flexible. Book, change, cancel. Easy. Safe secure storage and easy to find hotels.

Easy to use and helpful

Easy to use. Great price. Would definitely do this again

I love that you don't have to fill out a million forms to book storage space and insurance is automatically included!

Really good alternative to station luggage storage which is often really expensive and not open when you need it. The platform makes it easy to find more convenient options at a good price

Super easy and a wonderful option to allow me to use the most of my time in each city

Friendly, good service. Would recommend to everyone that's on holiday that needs to transfer hotels and due to check in & check out times its great for wait times, not having to carry luggage with you for hours

Fantastic service. Dragging your luggage around on the first day and last day of a London visit is a thing of the past.

Very easy and straight forward!
Affordable Luggage Storage Near Me In Roma Termini
Looking for luggage storage near Rome Termini Station? One of the city's main transport hubs, this is where you'll probably arrive if you're catching a train from Venice, Milan, or Florence, or if you're taking the Leonardo Express from Fiumicino Airport.
Since Roma Termini sits in the city center, connecting with Rome's metro, bus lines, and the Leonardo da Vinci International Airport, odds are you'll be passing through the station.
Let's find out where you can find luggage storage at Rome Termini.
Pricing
From €5.90 per bag/day
No height or weight restrictions
Luggage Storage In Roma Termini With Stasher
One of the earliest players in the luggage storage industry, Stasher's network extends throughout the world and provides a wide range of Roma Termini luggage storage. Many of central Rome's most respected businesses partner with Stasher to offer you Termini station luggage storage you can trust.
Why store your luggage in Rome Termini with Stasher?
Decades ago, nearly every transportation hub in the world offered affordable luggage storage for travelers. Unfortunately, traditional baggage storage is disappearing or becoming prohibitively expensive at most stations and airports.
Stasher recognizes the need for safe and affordable storage alternatives. When you book luggage storage at Rome's Termini with Stasher, you can expect outstanding customer service, including:
Security: Every one of Stasher's partners has been thoroughly investigated for your security. Stasher backs its Stashpoint choices with complimentary baggage insurance worth up to €1000 for each item you store.
Affordability: You'll only pay €6 per item per day with Stasher. No size or weight restrictions apply. Additional days are just €5 for 24 hours.
Convenience: You can choose from a host of Stashpoints near your destination. Online booking is quick and easy. Plus, you'll never have to worry about planning your entire trip around hotel check-in/out regulations and travel arrivals/departures. With convenient luggage storage near Rome Termini, you'll have plenty of extra time to enjoy the Eternal City.
Flexibility: You can always change your plans when you reserve luggage storage with Stasher. You'll have the freedom to pick up your bags early or leave them until you're ready to move on.
Trust: With recommendations from renowned organizations like Lonely Planet, TechCrunch, and the BBC, as well as customer service awards from Feefo, Expedia, and Visit England, you can be sure that Stasher is a brand you can trust. If you're still not convinced, you can read over 20,000 online customer reviews, which rank 4.8/5 stars.
Where can I store my luggage near Rome Termini with Stasher?
Stasher partners with some of Rome's most respected businesses near Roma Termini station.
With Stasher, you're sure to find the ideal place to store your luggage near Rome's central railway station. The majority of our Roma Termini Stashpoints open in the early morning hours and remain accessible into the late evening. You'll even find central Rome Stashpoints that operate 24 hours a day.
How to store your luggage in Rome Termini with Stasher
Luggage storage near Roma Termini is a snap with our downloadable phone app or fast-loading website. You'll be able to reserve your luggage storage in minutes by following a few simple steps:
Use your laptop browser or our handy app to input your desired luggage storage location. If you've already arrived at the Termini, you can click on the "Near Me Now" button to browse through the closest Stashpoints.
Choose the most convenient Stashpoint and enter your approximate estimated pick-up and drop-off times.
Reserve your luggage storage, and we'll immediately send you a confirmation with directions to your Stashpoint.
Lastly, drop off your baggage and explore central Rome like a local.
Luggage storage and lockers near Rome Termini
You'll find official Roma Termini luggage storage near the Via Giolotti exit. Look for the sign that says, "Deposito Bagagli." There are no self-service Roma Termini luggage storage lockers.
Opening hours are 6 a.m. to 11 p.m.
How much does it cost?
Prices start at €6 for 5 hours. After that, you'll pay €.60 for hours 6-12 and €.40 after the 13th hour. Space may be limited, and you'll need to contact the station to find out about size and weight restrictions. You may also have to pay cancellation fees if you reserve in advance.
Useful information about Roma Termini
In 1867, architect Salvatore Bianchi designed Rome's central train station for the site where Pope Sixtus V built his Villa Montalto Perretti on Esquiline Hill. Architect Angiolo Mazzoni began working on expanding the station in 1939. However, construction had to be postponed due to the outbreak of World War II. The renovations were finally completed in 1951.
The modern version of Roma Termini features an entire shopping mall called the Forum Termini. Amenities include free wifi, ATMs, club class and executive lounges, cafes, and a minimarket.
Things to do near Roma Termini
The Pantheon
Around 113 CE, the Pantheon began its existence as a Roman Temple dedicated to all Gods. Fortunately, when the Roman empire converted to Christianity, the building was spared from destruction and instead, converted into a Catholic Church. Officially called Basilica di Santa Maria ad Martyres, the Pantheon has been continuously used as a Christian place of worship since 609 CE.
The highlight of the Pantheon is its magnificent coffered dome, an architectural wonder in its day. Natural sunlight pours through the dome's 142-foot wide central oculus, giving the interior an otherworldly feeling.
Piazza di Spagna
The Piazza di Spagna is one of the most iconic plazas in Rome and home to the famous Spanish Steps, where locals and tourists alike enjoy sitting, enjoying a snack, chatting with neighbors, and taking in the scenery. Other points of interest include an ancient Egyptian obelisk and Pietro Bernini's "Fountain of the Ugly Boat."
Palazzo Massimo Alle Terme
The Palazzo Massimo Alle Terme houses the National Roman Museum. For only €7, you'll get to see some of ancient Rome's most famous masterpieces, including:
The Frescoes of Villa Farnesina
The Discus Thrower
The Portonnaccio Sarcophagus
The Tiber Apollo
The Sleeping Hermaphroditus
You'll also find the Baths of Diocletian on the Palazzo Massimo grounds. Opened as a public thermal bath in 306 CE, the site is now a museum.
Basilica di Santa Maria Maggiore
An easy ten-minute walk from Roma Termini will take you to the Basilica di Santa Maria Maggiore, which dates back to 432 CE. Pope Sixtus III built the basilica over the spot where Pope Liberius constructed a small church called Santa Maria Della Neve.
The basilica is among the first churches dedicated to Mary after the Council of Ephesus declared Mary the "Mother of God." The church also houses the tomb and remains of celebrated Italian architect Gian Lorenzo Bernini.
The Colosseum
The fabled Colosseum lies just a 20-minute walk from the Roma Termini. The Flavian emperor Vespasian began constructing the enormous amphitheatre around the year 7 BCE. After the initial construction was finished in 80 BCE, Emperor Titus inaugurated the Colosseum with 100 days of games.
The Flavian Ampitheatre was an architectural miracle for its time, including examples of every type of Roman column, a floor that could be flooded for watersports, and a huge fabric canopy to protect spectators from the elements.
If you get a museum pass and head to the Colosseum just before it opens, you'll be greeted by innumerable feral yet friendly cats and few humans. Buy a museum pass or skip-the-line ticket for a hassle-free visit to Rome's most popular attraction.
Piazza della Republica
The Piazza della Republica is home to several must-see tourist attractions, including the Basilica di Santa Maria degli Angeli e dei Martiri. Bibliophiles will find a treasure trove at the piazza's row of outdoor stalls selling used books.
Servian Wall
Roman King Servius Tullius built his namesake wall shortly after the neighboring Gauls nearly destroyed all of Rome in 390 BCE. Roman authorities neglected the wall's maintenance after Julius Ceasar's reign, and today the wall is broken into pieces. However, the largest surviving section is the portion closest to Roma Termini.
Museo Boncompagni Ludovisi
Museo Boncompagni Ludovisi lies on the northern side of Via de Venti Settembre and focuses on Rome's functional and decorative arts. Constructed in 1901, the building features a mixture of Baroque and Art Nouveau styles and displays household objects, vintage fashion, and architectural details from the late 18th through the 20th century.
Basilica di Santa Prassede
Although it's often overlooked by tourists, the Basilica di Santa Prassede stuns visitors with its ornately guided interior and mosaiced dome dating back to the 9th century. Art enthusiasts can tour the museum daily with a limit of five people per group.
Gardens of Sallust
In the first century CE, Roman nobility began building luxurious gardened palaces, called "horti," as a way to escape the city and public life. The Horti of Sallust originally belonged to Julius Caesar before his assassination passed the garden palace to his close friend Sallust, the governor of the Africa Nova Province.
These days, the gardens still provide a peaceful respite from the urban bustle with inventive topiaries, ancient sculptures, and historic buildings. The Horti is currently under construction but is set to reopen soon.
San Lorenzo Neighborhood
A 10-minute stroll down Via Marsala will take you to the San Lorenzo Neighborhood. Bordering one of Europe's most expansive universities, the University La Sapienza, the area is one of the ideal locations in downtown Rome for clubbing, sampling craft beers, and dining at affordable prices.
Basilica del Sacro Cuore di Gesu
Travelers will also find the famed Basilica del Sacro Cuore di Gesu on Via Marsala. A relative newcomer to Rome's collection of Catholic churches, the basilica was commissioned by Pope Pius IX in 1870.
The original intent of the facility was to act as a refuge for poor and abandoned youth. You can visit or worship at the facility, and any entrance fee or donation you make helps maintain the organization's efforts to aid young Romans in need.
Piazza Vittorio
If you get a craving for Asian cuisine, head to the enormous market at Piazza Vittorio, a short walk away from Roma Termini. You can also see fragments of an ancient aqueduct and an elaborately carved fountain. The fountain, called the "Trophies of Marius," dates back to 226 CE under the reign of Emperor Alexander Severus.
Iglesia de Santa Maria della Vittoria
You'll find Santa Maria della Vittoria just north of Roma Termini. The Church of our Lady of Victory houses one of the most important sculptures in Western art history, "The Ecstasy of Saint Theresa" by Bernini.
Frequently asked questions
Is Stasher's luggage storage in Roma Termini safe?

Stasher's security team personally visits each Stashpoint to be certain that your luggage will be safe. We also attach a security tag to each of your items and insure each bag for up to £1,000 in the unlikely case that anything gets lost, damaged, or stolen.
How does Stasher work?

Stasher puts you in touch with a network of local hotels and businesses that offer affordable luggage storage in Roma Termini. Book online, drop your bags off, and continue exploring the city!
Where can I store my luggage in Roma Termini?

Stasher offers award-winning, safe, and convenient luggage storage near key Roma Termini attractions and main transportation hubs. Over 21,000 verified customer reviews have earned us a ranking of 4.8/5 stars on Feefo, which awarded Stasher with its Platinum Trusted Service Award.
How much does it cost to store my luggage in Roma Termini?

Luggage storage in Roma Termini costs from €5.90 for the first day and €5.90 for any additional day.
Is there a size limit for luggage storage with Stasher?

No. Our flat fee per day includes oversized or overweight items. However, you may wish to contact your Stashpoint before booking to make sure the location has space to accommodate exceptionally large items like surfboards or upright basses.

We can accommodate all types of luggage, big or small. To ensure a smooth experience, contact us before booking if you wish to store any odd-sized items (such as bikes, skiing equipment, etc.). Our customer support team is available 24/7.
How long can I store my luggage in Roma Termini for?

You can store your luggage for as long or as little as you'd like. Just select your desired drop-off and pick-up dates on the checkout page. If you wish to change your booking, you can easily do so without any extra fees!
Will my luggage be safe?

All of our luggage storage locations (we call them Stashpoints!) are vetted by a member of our team. The area reserved for bags is accessible only by the employees and business staff. In addition, each item is insured for up to €1,100.00, adding an extra layer of security.
What will happen in case I have a problem with my booking?

Our award-winning customer service is always on hand to help you out. Chat to us using the online chat tool, email us at [email protected], or give us a call! We pride ourselves in taking care of our customers. Our stellar track record has earned us customer service awards from Feefo and Visit England, while more than 5000 reviews give us an average rating of 4.7!
What safety precautions are in place for Covid-19?

To keep you and other customers safe, please be aware Stasher are advising all customers and hosts of the following guidelines:

Maintain a distance of 2 meters from other customers and staff
Transfer bags by placing them on the floor for the customer to pick up, rather than passing directly
Follow the guidance of local government in regards to: travel, social distancing and Personal Protective Equipment.
Provide and use hand sanitiser if possible.
We recommend taking photographs of luggage tags and applying tags to the bags yourself
What if I need to change my drop-off and pick-up times?

We ask for approximate drop-off and pick-up times so that we can prepare for your arrival. However, you can always change your plans.
How long can I store my luggage in Roma Termini?

You can store your baggage at one of our Roma Termini luggage storage locations for a few hours, days, or even months. We offer discounts for extended storage. It's up to you.