Entreposage de bagages
The Louvre
137 Des points d'empote dans Paris
1 000 £GB

d'assurance incluse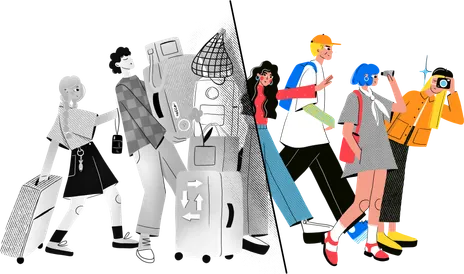 Certains de nos partenaires
Comment ça marche
1

Trouvez et réservez une consigne à bagages sur notre carte.

2

Payez rapidement en utilisant l'une des méthodes sécurisées que nous proposons.

3

Rangez vos bagages dans des hôtels et des boutiques vérifiés.

4

Récupérez vos bagages plus tard, après une journée sans bagages.
Des milliers de clients nous utilisent chaque jour, voici pourquoi
La moitié du prix des casiers de gare

Prix fixe par sac et par jour. Aucune restriction de taille ou de poids !

Garantie de remboursement à 100 %

Annulation gratuite pour toutes les réservations non utilisées et remboursement complet si vous n'êtes pas satisfait.

99,99 % des sacs sont stockés en toute sécurité

Tous les bagages que nous stockons sont assurés contre la perte, le vol et les dommages.

Assistance 24/7

Vous pouvez toujours contacter notre équipe d'assistance clientèle primée si vous avez des questions.

Plus de 3600 points de réserve

Retrouvez-nous dans plus de 890 villes et plus de 80 pays.

Réservez en moins de 2 minutes

Obtenez une confirmation instantanée en ligne à afficher en magasin. Réservez maintenant
Voici ce que les clients disent de nous
Great service. Quick and easy to book with lots of options for storage around the city at a very reasonable price!

Extremely easy to use and incredibly useful for us. Stasher is a real find that I will use again and recommend to others 

La plataforma es muy amigable y sencilla de utilizar, cuenta con una gran variedad de espacios para seleccionar el que esté más cerca. Toda la información necesaria de los lugares, se encuentra a la vista y muy sencilla de entender. Todo excelente

Really easy and convenient service - we had to check out of our booking.com apartment by 10am but our flight home from Marseille wasn't until the evening so it was a perfect and affordable solution to drop our main luggage cases off and be able to do more sightseeing. 

We needed somewhere to store a small suitcase as we had a few hours to kill in Bristol before a friend was picking us up. This Stasher location was a quick 5 min walk from station and so easy to use. The staff I encountered on the drop-off and pick-up were friendly and courteous and the whole process only took a matter of minutes. After a lovely afternoon exploring Bristol, we came back to pick up our suitcase and, as our friend was running late, we purchased a drink in the hotel bar while we waited. Win win!

Very convenient service. Having to check out early from our Air B&B, our flight wasn't until late. This service allowed us to continue our holiday without the hassle of dragging and hogging our luggage around with us. Highly recommend.

Very useful. We arrived to Victoria Coach Station and I was very happy to found this place because it allows to us to gain some time instead of go to the Airbnb and come back to the center of London. I'll use this service next time absolutely

Easy to book, it's very convenient and reduces the hassle when you see which locations have space. Reasonably priced. Would use again and recommend!

This service was a life saver in Rome!  The website was very user friendly and offered several locations to choose from so we could get as close to our location as possible.

Very easy to pre-book and pay and lots of choice of places to leave bags so could easily find a suitable location. Much cheaper than leaving luggage at the station.

I'm SO HAPPY Stasher exists! Please continue all over the world. It was easy to storage my luggage with the business I chose so I could go on a walking tour, and the location of the business was a bonus for my sightseeing. 

Me sirvió mucho, la ubicación, cerca de la avenida Paulista. Ideal si tenes un día libre y tu hotel no te permite tener las maletas aguardadas. Práctico. 

Stasher is an excellent idea! I've always struggled with trying to store larger items of luggage safely and securely while exploring or waiting between accommodation check-out and travel times. The app was easy and convenient to use. 

Not used a service like this before so wasn't sure what to expect , We needn't have worried . What a great service , easy to find, friendly staff explained everything , stored our bags securely and We felt very comfortable leaving our belongings with them so we could have a great day out without being weighed down with luggage, def be using stasher again 😊

I had never used such a service before and so did not really know what to expect. However I was pleased that I found Stasher. The website was very easy to use and did just what it said on the tin! I will certainly use the site again and recommend to others.

Great concept! Stasher addresses one of the shortcomings of AirBnB-not knowing what to do with your luggage after an early arrival. Our experience enabled us to drop our bags within two blocks of our stay and start seeing the city.

Such a great service! It made our trip 1000x easier because of all the Stasher locations throughout the city. SO happy we found Stasher!

The app is very simple and efficient to use, as you put dates and baggage amount and can start to find places using a graphical map

No sabía qué hacer con mis maletas en Barcelona durante una visita entre viajes y busqué un lugar donde hacerlo. La web ess estupenda, fácil e intuitiva y te lleva a encontrar el lugar de tu preferencia y con la mejor ubicación para dejar tus maletas. En mi caso: Barcelona, La Rambla. Excelente experiencia. Gracias.

Due to the rail strike in London our plans were changed so we no longer needed to use Stasher. I contacted them immediately and the money paid was refunded . It was a very efficient and positive experience.

Very easy to use. I was slightly nervous of not getting the location in advance of booking but it was very close to Kings X station.

I was shocked by how easy and convenient stasher was. It was simple to book, and all went smoothly from start to finish. Would definitely use again.

Really convenient if you have checked out from your hotel but you still have the whole day to go around the city

Super easy to use and such a convenience. Never knew it existed before and will definitely use again.

It was easy and straightforward to book a place to store our luggage. We are glad we decided to use this service.

It was really easy to book using the mobile web site. The instructions what to do were clear and straightforward. Plus the price was reasonable. 

No fuss, no bother, did the job, and friendly and helpful too. All I had to do was take a photo of the bag and show my online booking. Ray! Thanks.

La primera vez que usaba esta página y no estaba muy segura. Encantada con el servicio. La página fácil de usar, segura en el pago y clara en la dirección.

Muy buena aplicación, para cuando necesitas movilizarte por las ciudades sin cargar maletas.

Great service. Website easy to use.  This is my second time using this service in different countries and both times the experience was super. Would definitely recommend it

super easy! made a world of difference having somewhere safe to store our luggage as we explored London for the day, cannot recommend enough! 

Quite literally the best system for making the most of your holiday. We arrived in Sydney for a short break and wanted to get the most out of our time here. Stashing our 4 large cases on the first day meant we were free to explore unhindered. Simple booking system and clear instructions for drop off / pick up. Highly recommended ✈️❤️🧳

Great service. Such a great idea for when you have things to do that won't allow your bags in. I work in the city and was attending a concert after work so I had my laptop bag with me. Well the venue didn't allow bags in so we used Stasher, problem solved. Will definitely use again.

App was very easy to use. I was looking for a place to store my luggage when I returned to NY when we were waiting to take off. It took me about 10 minutes and all done.

Get app. So useful and have already recommended to friends who now use it. 

Great location in Bristol - near railway station and bus links to airport and across city. Staff pleasant and helpful. Quick and easy drop-off and collection process. Good value for money. Would definitely recommend.

Storing my suitcase at the Camberley couldn't have been easier.  Minutes from the station, easy to find.  My suitcase was safe and secure.  Staff were extremely friendly and helpful in giving directions etc.  Definately use them again 👍 

Great app, really easy to find convenient storage at a sensible price.

This is my first time using this app. Very convenient and definitely cheaper than other options!

Brilliant system which was easy to use. I could pay quickly with Apple Pay and the email system meant I had my booking reference straight away. 

Buchung war sehr einfach uns schnell

Absolutely loved not having to carry my bag around with me before I could check in to my stay!

I love Stasher! Easy to book, lots of choice of locations, cheaper than storage at the train station, and even easy to cancel if your plans change.

Todo funciona fluido, me gustó bastante el proceso y el precio está bien, de seguro se lo recomendaré a mis amigos.

Very quick and easy, for someone who isn't always best with instructions I had no issues! Highly recommend :)

Sehr gute und unkomplizierte Möglichkeit der Gepäckaufbewahrung während unserer Tagestour in Paris. Die Koffer wurden in einem sauberen Kellerraum mit Videoüberwachung aufbewahrt. Der Zugang zu diesem Raum war unberechtigen Personen nicht möglich. Das Personal des Geschäftes war sehr freundlich. Gerne wieder!

Easy to use booked online you get a confirmation email with full address of location drop bag off away you go,pick bag up great service

Había muchos sitios para escoger donde guardar el equipaje. La reserva y pago muy sencillo.

The Stasher app is so easy to use. You just enter your location, choose the place most convenient for you and book your time slot, then pay…job done!

Easy to use, can't believe I have just found Stasher! All those times I have been carrying my bags around!

Easy to use and easy to cancel and get a refund if your plans change.

Easy to use. Just put in where I wanted and it showed me all the drop off points available and i could choose the most convenient for me.

It was overall an easy and smooth experience. Staff and location of storage are all pleasant. Highly recommended!

Procedura di prenotazione, semplice ed efficiente, siti tutti facilmente raggiungibili. Una ancora maggiore capillarità dei centri di raccolta sarebbe auspicabile.

Es muy fácil registrarte y reservar para dejar tus maletas en un punto cercano. Además cuenta con bastantes puntos en la ciudad donde lo he utilizado.

I was a bit nervous about it since it's sometimes hard to know what to trust on the internet, especially in a foreign country. I actually went over to the drop off beforehand without my bags to make sure everything looked legit. But it all worked out perfectly, and it seems like a great operation. I'll definitely start here next time I need to store bags when traveling.

Such a great concept which gave us sightseeing time before our late flight without the hassle of carrying our luggage.

Super simple to use, wish I'd known about this years ago, if you travel why would you not use this.

Great app! Easy to navigate and pay. Offered multiple sites in the area of town we wanted to explore. Definitely took the worry out of what to do with luggage while sightseeing.

Lifesaver when you're travelling with lots of luggage.

Very easy and flexible. Book, change, cancel. Easy. Safe secure storage and easy to find hotels.

Easy to use and helpful

Easy to use. Great price. Would definitely do this again

I love that you don't have to fill out a million forms to book storage space and insurance is automatically included!

Really good alternative to station luggage storage which is often really expensive and not open when you need it. The platform makes it easy to find more convenient options at a good price

Super easy and a wonderful option to allow me to use the most of my time in each city

Friendly, good service. Would recommend to everyone that's on holiday that needs to transfer hotels and due to check in & check out times its great for wait times, not having to carry luggage with you for hours

Fantastic service. Dragging your luggage around on the first day and last day of a London visit is a thing of the past.

Very easy and straight forward!
Consigne Bagages The Louvre, Paris?
Vous êtes à la recherche d'une consigne à bagages au Louvre ? Dans ce cas ne cherchez pas plus loin car les services innovants de Stasher offrent des consignes à bagages pratiques et abordables autour du Louvre.
Le musée du Louvre est un des plus grands musées du monde. Il est situé au cœur de la ville de Paris, près de la rive droite de la Seine. Le bâtiment est un ancien palais royal, mais auparavant c'était une forteresse construite à la fin du 12ème siècle sous Philippe II.
Près de 35 000 objets, de la préhistoire au 21e siècle, y sont exposées sur une superficie de 60 600 m². Avec plus de 8 millions de visiteurs chaque année, il est le musée le plus visité au monde.
En faisant confiance à notre service de pointe qui vous propose des consignes à bagages pratiques dans toute la France, vous profiterez de votre voyage à Paris en toute sérénité, même si vous n'y restez que quelques heures ou quelques jours.
Alors, n'attendez plus, choisissez un Stashpoint à côté du Louvre et partez à la découverte de Paris !
Tarifs
À partir de 5,90 € par sac/jour
Aucune restriction de taille ni poids
  En savoir plus
Stockage De Bagages Près De Chez Toi À The Louvre, Paris Avec Stasher
Stasher est un réseau international de consignes à bagages 100 % fiable et sécurisé. Nous proposons un service à la clientèle primé avec plus de 21,100 avis clients avec une note moyenne de 4,8/5. Cela démontre que laisser vos bagages avec Stasher à Paris ou ailleurs en France est sûr et pratique.
Grâce à un réseau de centaines d'hôtels et d'entreprises locales à Paris, la consigne à bagages de Stasher propose des solutions d'entreposage abordables et pratiques pour que vous puissiez entreposer vos bagages en toute sécurité et profiter de tout ce que Paris a à offrir.
Vous pouvez utiliser les consignes à bagages telles que les casiers dans les gares et les gares routières - mais elles sont chères, vous ne pouvez pas toujours réserver en ligne et offrent une capacité limitée. Alors, profitez au maximum de votre temps et réservez une consigne à bagages à Paris avec Stasher en ligne !
C'est pratique, abordable et entièrement assuré !
Pourquoi stocker vos bagages avec Stasher
Il y a de nombreux avantages à stocker vos bagages avec Stasher. En voici quelques-unes énumérées ci-dessous :
Nous travaillons en partenariat avec des chaînes hôtelières internationales telles que Premier Inn, Marriott International et Accor Hotels
Chaque article que vous stockez avec Stasher est assuré jusqu'à 1 000 €
Service client primé, disponible 24h/24 et 7j/7
Chacun de nos Stashpoints a été contrôlé par un membre de l'équipe Stasher
Aucune restriction de taille ou de poids
Nous sommes 50 % moins chers que les consignes de gare et les consignes à bagages alternatives
Nous avons plus de 21,100 avis avec une moyenne de 4,8 sur Feefo
Où puis-je stocker mes bagages près du Louvre avec Stasher?
Le vaste réseau de consignes à bagages de Stasher propose plus de 6000 Stashpoints sûrs et abordables dans plus de 400 grandes villes du monde, y compris Paris.
Notre objectif est d'avoir un Stashpoint partout où vous en avez besoin, que vous ayez besoin d'entreposer vos bagages près du Louvre, de la tour Eiffel, de Montmartre ou de la gare du Nord, soyez assurés que nous avons un Stashpoint à quelques minutes de marche. Après tout, personne ne veut avoir à traîner ses bagages dans les rues bondées de Paris.
Consultez nos consignes à bagages afin de trouver un Stashpoint pratique près du Musée du Louvre pour stocker vos bagages en toute sécurité, éviter les longues files d'attente dans les gares routières et ferroviaires et payer beaucoup moins cher !
Combien coûte une consigne à bagages au Musée du Louvre avec Stasher?
La consigne à bagages avec Stasher coûte 4.95 € par jour et par bagage et 4.95 € pour le lendemain.
De plus, il n'y a pas de frais cachés ou de frais supplémentaires avec Stasher, ainsi qu'aucune restriction de poids ou de taille.
Horaires d'ouverture
Afin de vous faciliter la vie lors de vos déplacements, Stasher propose des consignes à bagages avec des horaires d'ouverture prolongés. La plupart de nos Stashpoints sont ouverts jusqu'à tard ou 24h/24 et 7j/7 !
Ainsi, vous pourrez déposer ou récupérer vos bagages sans aucune restriction de temps.
Consigne à bagages au Musée du Louvre
Vous pouvez déposer vos bagages dans les consignes du Musée du Louvre. La consigne est à votre disposition sous la Pyramide mais les objets déposés doivent être retirés le jour même.
Notez que les objets de dimensions supérieures à 55 x 35 x 20 cm ne sont pas acceptés dans l'enceinte du musée.
Heures d'ouverture
Les heures d'ouverture des consignes à bagages au Musée du Louvre sont de 9 h à 18h00 tous les jours sauf le mardi.
Coût de consigne à bagages au Musée du Louvre
Les consignes à bagages au musée sont gratuits pendant la durée de votre visite.
Autrement, si vous voulez stocker vos bagages pour toute la journée, vous pouvez utiliser les services de Stasher qui vous offrent une consigne à bagages pratique et sécurisée qui ne vous coûtera que 4.95 € par article pour le jour entier.
Comment entreposer vos bagages avec Stasher
La réservation d'une consigne à bagages près du musée du Louvre ne pourrait pas être plus simple:
Téléchargez notre application par Android ou iPhone. Vous pouvez également utiliser votre navigateur pour accéder à Stasher.com.
Recherchez votre destination ou cliquez sur le bouton "Near Me Now" si vous êtes déjà arrivé au musée.
Sélectionnez le Stashpoint le plus pratique et entrez vos heures approximatives de dépôt et de ramassage afin que nous puissions être prêts pour votre arrivée.
Réservez votre consigne à bagages et nous vous enverrons un message de confirmation instantané avec les directions vers votre Stashpoint.
Questions fréquemment posées
Stasher - Comment ça marche?

Stasher vous met en relation avec un réseau d'hôtels et d'entreprises qui offrent un service de consignes à bagages abordable à The Louvre, Paris. Réservez en ligne, déposez vos bagages et explorez la ville!
Où puis-je stocker mes bagages à The Louvre, Paris?

Stasher offre des consignes pratiques et abordables près des attractions touristiques, des centres de transport et des lieux célèbres. En utilisant notre plan de Stashpoints, vous pouvez voir tous nos localisations facilement.
Combien coûte-il pour stocker mes bagages à The Louvre, Paris?

Les tarifs de nos consignes sont à partir de 5,90 € pour le premier jour.
Est-ce qu'il existe une taille de bagage maximum permis avec Stasher?

Il n'existe aucune restriction de taille avec Stasher. Nous pouvons stocker en toute sécurité toute taille et tous les types de bagages. Pour garantir une expérience agréable, veuillez nous contacter si vous voudriez stocker des objets différents (comme des vélos, équipement de ski, etc). Notre équipe de support client est disponible 24h/24, 7j/7.
Combien de temps puis-je stocker mes bagages à The Louvre, Paris?

Vous pouvez stocker vos bagages aussi courte ou longue que vous désirez. Il faut juste sélectionner une date de dépôt et de récupération sur la page de paiement. Si vous voudriez changer votre réservation, vous pouvez le faire facilement sans frais additionnels!
Est-ce que mes bagages seront en sécurité?

Tous nos consignes (nous les appelons Stashpoints!) ont été approuvés par une membre de notre équipe. Un espace sécurisé est réservé pour les bagages qui est accessible seulement par le personnel. De plus, chaque bagage est assuré jusqu'à 1 155,00 € contre toutes pertes, vols ou dommages.
Qu'est-ce qui va passer si j'ai un probleme avec ma réservation?

Notre service client primé est toujours disponible pour vous aider. Vous pouvez utiliser notre salle de chat, envoyez-nous un mail à [email protected], ou appelez-nous directement! Nous sommes fiers de prendre soin de nos clients. Nous avons gagné plusieurs prix de Feefo et VisitEngland et plus de 5000 critiques nous donne une moyenne de 4,7!
Les précautions de sécurité avec Covid-19:

Afin de garantir la sûreté de vous et nos autres clients, merci d'être conscient des lignes directrices suivantes que Stasher conseille à tout hôte et client:

Gardez un distance de 2m entre vous et les autres clients et personnel.
Échangez les bagages en les plaçant par terre pour le client de récupérer, au lieu de leur les donner directement.
Suivez les conseils du gouvernement local concernant: le voyage, le distancement social, et l'équipement de protection individuelle.
Merci de fournir du désinfectant pour les mains si possible.

Merci pour vos efforts de travailler avec Stasher de manière saine et sûre!
Autres consignes à bagages à Paris