Deposito bagagli
Milan Central Station
51 Punti nascoste in Milano
1.000 £

assicurazione inclusa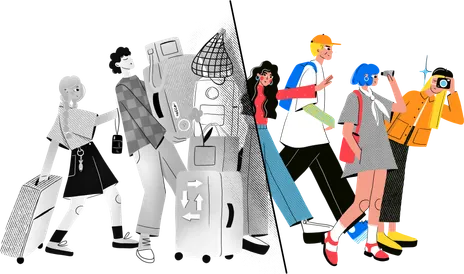 Alcuni dei nostri partner
Come Funziona
1

Trova e prenota il deposito bagagli sulla nostra mappa.

2

Paga rapidamente utilizzando uno dei metodi sicuri che offriamo.

3

Deposita i tuoi bagagli in hotel e negozi verificati.

4

Ritira i bagagli più tardi, dopo aver trascorso una giornata senza bagagli.
Migliaia di clienti ci usano ogni giorno, ecco perché
La metà del prezzo degli armadietti delle stazioni

Prezzo fisso per bagaglio al giorno. Nessuna restrizione di dimensione o peso!

Garanzia di rimborso al 100%

Cancellazione gratuita per tutte le prenotazioni non utilizzate e rimborso completo se non sei soddisfatto.

99,99% borse immagazzinate in modo sicuro

Tutti i bagagli depositati presso di noi sono assicurati contro smarrimento, furto e danneggiamento.

Assistenza 24/7

In caso di domande, puoi sempre contattare il nostro pluripremiato team di assistenza clienti.

Oltre 3600 punti stashpoint

Trovaci in oltre 890 città e più di 50 paesi.

Prenota in meno di 2 minuti

Ricevi una conferma online immediata da mostrare in negozio. Prenota ora
Ecco cosa dicono di noi i clienti
Great service. Quick and easy to book with lots of options for storage around the city at a very reasonable price!

Extremely easy to use and incredibly useful for us. Stasher is a real find that I will use again and recommend to others 

La plataforma es muy amigable y sencilla de utilizar, cuenta con una gran variedad de espacios para seleccionar el que esté más cerca. Toda la información necesaria de los lugares, se encuentra a la vista y muy sencilla de entender. Todo excelente

Really easy and convenient service - we had to check out of our booking.com apartment by 10am but our flight home from Marseille wasn't until the evening so it was a perfect and affordable solution to drop our main luggage cases off and be able to do more sightseeing. 

We needed somewhere to store a small suitcase as we had a few hours to kill in Bristol before a friend was picking us up. This Stasher location was a quick 5 min walk from station and so easy to use. The staff I encountered on the drop-off and pick-up were friendly and courteous and the whole process only took a matter of minutes. After a lovely afternoon exploring Bristol, we came back to pick up our suitcase and, as our friend was running late, we purchased a drink in the hotel bar while we waited. Win win!

Very convenient service. Having to check out early from our Air B&B, our flight wasn't until late. This service allowed us to continue our holiday without the hassle of dragging and hogging our luggage around with us. Highly recommend.

Very useful. We arrived to Victoria Coach Station and I was very happy to found this place because it allows to us to gain some time instead of go to the Airbnb and come back to the center of London. I'll use this service next time absolutely

Easy to book, it's very convenient and reduces the hassle when you see which locations have space. Reasonably priced. Would use again and recommend!

This service was a life saver in Rome!  The website was very user friendly and offered several locations to choose from so we could get as close to our location as possible.

Very easy to pre-book and pay and lots of choice of places to leave bags so could easily find a suitable location. Much cheaper than leaving luggage at the station.

I'm SO HAPPY Stasher exists! Please continue all over the world. It was easy to storage my luggage with the business I chose so I could go on a walking tour, and the location of the business was a bonus for my sightseeing. 

Me sirvió mucho, la ubicación, cerca de la avenida Paulista. Ideal si tenes un día libre y tu hotel no te permite tener las maletas aguardadas. Práctico. 

Stasher is an excellent idea! I've always struggled with trying to store larger items of luggage safely and securely while exploring or waiting between accommodation check-out and travel times. The app was easy and convenient to use. 

Not used a service like this before so wasn't sure what to expect , We needn't have worried . What a great service , easy to find, friendly staff explained everything , stored our bags securely and We felt very comfortable leaving our belongings with them so we could have a great day out without being weighed down with luggage, def be using stasher again 😊

I had never used such a service before and so did not really know what to expect. However I was pleased that I found Stasher. The website was very easy to use and did just what it said on the tin! I will certainly use the site again and recommend to others.

Great concept! Stasher addresses one of the shortcomings of AirBnB-not knowing what to do with your luggage after an early arrival. Our experience enabled us to drop our bags within two blocks of our stay and start seeing the city.

Such a great service! It made our trip 1000x easier because of all the Stasher locations throughout the city. SO happy we found Stasher!

The app is very simple and efficient to use, as you put dates and baggage amount and can start to find places using a graphical map

No sabía qué hacer con mis maletas en Barcelona durante una visita entre viajes y busqué un lugar donde hacerlo. La web ess estupenda, fácil e intuitiva y te lleva a encontrar el lugar de tu preferencia y con la mejor ubicación para dejar tus maletas. En mi caso: Barcelona, La Rambla. Excelente experiencia. Gracias.

Due to the rail strike in London our plans were changed so we no longer needed to use Stasher. I contacted them immediately and the money paid was refunded . It was a very efficient and positive experience.

Very easy to use. I was slightly nervous of not getting the location in advance of booking but it was very close to Kings X station.

I was shocked by how easy and convenient stasher was. It was simple to book, and all went smoothly from start to finish. Would definitely use again.

Really convenient if you have checked out from your hotel but you still have the whole day to go around the city

Super easy to use and such a convenience. Never knew it existed before and will definitely use again.

It was easy and straightforward to book a place to store our luggage. We are glad we decided to use this service.

It was really easy to book using the mobile web site. The instructions what to do were clear and straightforward. Plus the price was reasonable. 

No fuss, no bother, did the job, and friendly and helpful too. All I had to do was take a photo of the bag and show my online booking. Ray! Thanks.

La primera vez que usaba esta página y no estaba muy segura. Encantada con el servicio. La página fácil de usar, segura en el pago y clara en la dirección.

Muy buena aplicación, para cuando necesitas movilizarte por las ciudades sin cargar maletas.

Great service. Website easy to use.  This is my second time using this service in different countries and both times the experience was super. Would definitely recommend it

super easy! made a world of difference having somewhere safe to store our luggage as we explored London for the day, cannot recommend enough! 

Quite literally the best system for making the most of your holiday. We arrived in Sydney for a short break and wanted to get the most out of our time here. Stashing our 4 large cases on the first day meant we were free to explore unhindered. Simple booking system and clear instructions for drop off / pick up. Highly recommended ✈️❤️🧳

Great service. Such a great idea for when you have things to do that won't allow your bags in. I work in the city and was attending a concert after work so I had my laptop bag with me. Well the venue didn't allow bags in so we used Stasher, problem solved. Will definitely use again.

App was very easy to use. I was looking for a place to store my luggage when I returned to NY when we were waiting to take off. It took me about 10 minutes and all done.

Get app. So useful and have already recommended to friends who now use it. 

Great location in Bristol - near railway station and bus links to airport and across city. Staff pleasant and helpful. Quick and easy drop-off and collection process. Good value for money. Would definitely recommend.

Storing my suitcase at the Camberley couldn't have been easier.  Minutes from the station, easy to find.  My suitcase was safe and secure.  Staff were extremely friendly and helpful in giving directions etc.  Definately use them again 👍 

Great app, really easy to find convenient storage at a sensible price.

This is my first time using this app. Very convenient and definitely cheaper than other options!

Brilliant system which was easy to use. I could pay quickly with Apple Pay and the email system meant I had my booking reference straight away. 

Buchung war sehr einfach uns schnell

Absolutely loved not having to carry my bag around with me before I could check in to my stay!

I love Stasher! Easy to book, lots of choice of locations, cheaper than storage at the train station, and even easy to cancel if your plans change.

Todo funciona fluido, me gustó bastante el proceso y el precio está bien, de seguro se lo recomendaré a mis amigos.

Very quick and easy, for someone who isn't always best with instructions I had no issues! Highly recommend :)

Sehr gute und unkomplizierte Möglichkeit der Gepäckaufbewahrung während unserer Tagestour in Paris. Die Koffer wurden in einem sauberen Kellerraum mit Videoüberwachung aufbewahrt. Der Zugang zu diesem Raum war unberechtigen Personen nicht möglich. Das Personal des Geschäftes war sehr freundlich. Gerne wieder!

Easy to use booked online you get a confirmation email with full address of location drop bag off away you go,pick bag up great service

Había muchos sitios para escoger donde guardar el equipaje. La reserva y pago muy sencillo.

The Stasher app is so easy to use. You just enter your location, choose the place most convenient for you and book your time slot, then pay…job done!

Easy to use, can't believe I have just found Stasher! All those times I have been carrying my bags around!

Easy to use and easy to cancel and get a refund if your plans change.

Easy to use. Just put in where I wanted and it showed me all the drop off points available and i could choose the most convenient for me.

It was overall an easy and smooth experience. Staff and location of storage are all pleasant. Highly recommended!

Procedura di prenotazione, semplice ed efficiente, siti tutti facilmente raggiungibili. Una ancora maggiore capillarità dei centri di raccolta sarebbe auspicabile.

Es muy fácil registrarte y reservar para dejar tus maletas en un punto cercano. Además cuenta con bastantes puntos en la ciudad donde lo he utilizado.

I was a bit nervous about it since it's sometimes hard to know what to trust on the internet, especially in a foreign country. I actually went over to the drop off beforehand without my bags to make sure everything looked legit. But it all worked out perfectly, and it seems like a great operation. I'll definitely start here next time I need to store bags when traveling.

Such a great concept which gave us sightseeing time before our late flight without the hassle of carrying our luggage.

Super simple to use, wish I'd known about this years ago, if you travel why would you not use this.

Great app! Easy to navigate and pay. Offered multiple sites in the area of town we wanted to explore. Definitely took the worry out of what to do with luggage while sightseeing.

Lifesaver when you're travelling with lots of luggage.

Very easy and flexible. Book, change, cancel. Easy. Safe secure storage and easy to find hotels.

Easy to use and helpful

Easy to use. Great price. Would definitely do this again

I love that you don't have to fill out a million forms to book storage space and insurance is automatically included!

Really good alternative to station luggage storage which is often really expensive and not open when you need it. The platform makes it easy to find more convenient options at a good price

Super easy and a wonderful option to allow me to use the most of my time in each city

Friendly, good service. Would recommend to everyone that's on holiday that needs to transfer hotels and due to check in & check out times its great for wait times, not having to carry luggage with you for hours

Fantastic service. Dragging your luggage around on the first day and last day of a London visit is a thing of the past.

Very easy and straight forward!
Deposito Bagagli Milan Central Station, Milano
Benvenuti a Stasher - Il vostro compagno di viaggio ideale per il deposito bagagli a Milano Centrale
Inizia la tua avventura a Milano senza pensieri! Da Stasher, capiamo che per abbracciare veramente il fascino e la vivacità di questa città dinamica, devi muoverti liberamente. Per questo motivo, offriamo una soluzione sicura, conveniente ed economica per il deposito bagagli, alleviando il tuo carico e permettendoti di esplorare con facilità.
Le nostre strutture, strategicamente posizionate in tutto Milano, sono progettate pensando al viaggiatore, garantendo un facile accesso da e verso i principali nodi di trasporto e attrazioni. Che tu sia qui per un tour frenetico o per una vacanza rilassante, ci impegniamo a migliorare la tua esperienza milanese.
Lascia che ci occupiamo dei tuoi bagagli mentre scopri la magia di Milano, senza impedimenti. Benvenuto in un modo di viaggiare più leggero e libero con Stasher.
Tariffe
A partire da 5,90 € 1 bagaglio/giorno
Nessuna limitazione di altezza o peso
  Scopri di più
Deposito Bagagli Vicino A Te A Milan Central Station, Milano Con Stasher
Benvenuto su Stasher, la soluzione ideale per un servizio di deposito bagagli sicuro e conveniente alla Stazione di Milano Centrale. Che tu stia per prendere un treno o appena sbarcato nella vivace città di Milano, ci assicuriamo che tu possa farlo senza pensieri!
Deposito Bagagli In Milano Centrale con Stasher
Da Stasher, comprendiamo che il peso dei tuoi bagagli non dovrebbe limitare la tua libertà. Ecco perché ti offriamo un modo semplice e conveniente per depositare i tuoi bagagli, permettendoti di esplorare la città senza impedimenti. Con il nostro servizio di deposito bagagli alla Stazione di Milano Centrale, potrai sfruttare al meglio il tuo tempo, sia che tu stia aspettando il tuo treno o pronto per immergerti immediatamente nell'esperienza milanese!
Perché Scegliere Stasher?
Sicuro e Affidabile: Stasher si impegna a fornire un servizio di cui puoi fidarti. Le nostre postazioni di deposito bagagli, chiamate StashPoints, sono meticolosamente verificate per la sicurezza. Ogni prenotazione effettuata con noi include l'assicurazione, dando a te tranquillità e sicurezza.
Comodo e Accessibile: Situato a pochi passi dalla stazione, il nostro StashPoint alla Stazione di Milano Centrale è facilmente accessibile. Il servizio è attivo 24 ore su 24, assicurando che tu possa lasciare o ritirare i tuoi bagagli in qualsiasi momento ti sia più comodo.
Economico: Il nostro servizio è progettato per soddisfare le tue esigenze senza gravare sul tuo portafoglio. Per una piccola tariffa, puoi depositare i tuoi bagagli in tutta sicurezza per alcune ore, pernottare o anche per diversi giorni!
Altamente Valutato: Siamo orgogliosi di avere migliaia di recensioni a 5 stelle. Il nostro team di servizio clienti, amichevole e reattivo, è pronto ad assisterti in qualsiasi momento, fornendoti un'esperienza fluida e senza stress.
Come Funziona?
Prenota Online: Seleziona lo StashPoint che meglio si adatta alle tue esigenze e prenotalo online. È un processo semplice e veloce!

Consegna: Vai al nostro StashPoint alla Stazione di Milano Centrale e lascia i tuoi bagagli. I nostri partner di StashPoint conserveranno i tuoi bagagli in tutta sicurezza.

Goditi la tua Giornata: Con i tuoi bagagli al sicuro, goditi la tua giornata senza alcun impedimento.

Ritiro: Quando sei pronto, ritorna allo StashPoint e ritira i tuoi bagagli. È così facile!
Pronto a Deposito i tuoi Bagagli con Stasher?
Dì addio al fastidio di portare in giro i tuoi bagagli e benvenuto alla libertà di esplorare Milano senza bagagli! Affidati
Domande frequenti
Come Funziona Stasher?

Stasher ti mette in contatto con una rete di hotel e negozi che offrono un servizio di deposito bagagli vicino alla tua zona di arrivo, sosta o partenza. Cioè molto vicino a te. Anzi, vicinissimo. Prenota online, lascia i tuoi bagagli e goditi la tua libertà di movimento, come e quando vuoi, grazie al deposito senza limiti di Stasher.
Dove si trovano i punti di deposito per lasciare i bagagli vicino a me?

Abbiamo Stashpoints posizionati nei pressi delle principali stazioni e attrazioni turistiche di ogni città, in tutto il mondo. Usa la nostra barra di ricerca per trovare il punto di deposito ideale e più vicino a te. Clicca e prenota.
Perchè depositare i tuoi bagagli con Stasher?

Depositare i tuoi bagagli con Stasher è facile e grazie alla nostra assicurazione valida per ogni bagaglio. Non dovrai preoccuparti di nulla. Collaboriamo con catene alberghiere come Accor Hotels e Premier Inn, e la sicurezza del nostro servizio è costantemente in linea con i più rigorosi standard del settore.

Più di 20,000 recensioni del nostro servizio con un punteggio medio di 4.8/5
Ogni bagaglio depositato con Stasher è assicurato fino a 1.000 €
Il nostro supporto clienti stellato è sempre attivo, 24/7
Ogni punto di deposito è stato verificato da un Membro del Team di Stasher
Non ci sono restrizioni di grandezza
Costa il 50% di meno rispetto alle soluzioni disponibili presso le stazioni
Quanto costa depositare il tuo bagaglio a Milan Central Station, Milano?

A partire da 5,90 € al giorno.
È previsto un limite di grandezza dei bagagli depositati con Stasher?

Con Stasher non sono previsti limiti di grandezza. Possiamo custodire qualunque tipo di bagaglio, grande o piccolo che sia. In caso volessi depositare degli oggetti inusuali (come attrezzature sportive, bici o altro), consigliamo di contattarci prima di effettuare la prenotazione. Il nostro servizio clienti è a disposizione 24/7.
Per quanto tempo posso depositare le mie valigie a Milan Central Station, Milano?

Puoi lasciare i tuoi bagagli per tutto il tempo che desideri. Seleziona data e ora di deposito e di ritiro al momento della prenotazione. In caso desiderassi modificare la tua prenotazione, puoi tranquillamente procedere dal tuo account, senza alcun costo aggiuntivo.
I miei bagagli saranno al sicuro?

Tutti i nostri punti di deposito (chiamati Stashpoints!) sono certificati da un membro del nostro team. L'area dedicata al deposito dei bagagli è accessibile solamente al personale autorizzato. Ogni bagaglio è inoltre assicurato fino a €1000, rendendo totalmente sicuro il deposito.
Cosa succede se ho un problema con la mia prenotazione?

Il nostro servizio clienti è sempre a disposizione per aiutarti. Scrivici sulla nostra chat, chiamaci o contattaci tramite email all'indirizzo [email protected]! Ci teniamo ad aiutare tutti i nostri clienti! Il nostro servizio è stato recensito più di 20000 volte per un punteggio totale di 4.8/5!
Cosa succede se cancello la mia prenotazione?

A differenza di altri marchi, la prenotazione con Stasher può essere cancellata senza problemi. Non verrà applicata alcuna penale e in più ti verrà rimborsato anche il costo della prenotazione.
Misure di sicurezza per il Covid-19

Per poter assicurare la salvaguardia tua e dei nostri altri clienti, ti preghiamo di prendere nota delle seguenti linee guidaç

Mantieni una distanza di sicurezza di almeno 2 metri dagli altri clienti e lo staff del posto
Poggia i bagagli sul pavimento invece che trasferirli di mano in mano, cosicchè da evitare contatti diretti
Seguire le direttive del governo del posto per quanto riguarda: viaggiare, distanza di sicurezza e DPI (dispositivi di protezione personale)
Fornisci disinfettante per le mani se possibile.

Grazie mille per aiutarci a depositare bagagli in maniera sicura!