A team of global risk experts called International SOS launched the 2019 Travel Risk Map in collaboration with Control Risks consultancy. The study shows the threat level for travellers in each country based factors as the danger by political violence and social unrest levels, as well as petty crime.
Positive factors included the reliability of the transport system, the effectiveness of social services and the country's trade relations with its neighbours
UK considered low risk
Analysts assessed five categories of risk:
Insignificant
Low 
Medium
High
Extreme
According to the map showing the worldwide risk level, UK is considered "low risk" in terms of security and infrastructure. To no one's surprise, the only countries that made it into the "least dangerous" group were Denmark, Norway, Switzerland, Iceland, Finland and Greenland. 
Most of the European countries made into the low-risk group, including the UK, as well as Canada, the US, New Zealand, Australia, Uzbekistan, Iran, Jordan, Oman, the UAE, Kuwait, Qatar, Azerbaijan and Armenia.
Almost all of Africa and the Middle East are considered "extreme risk." This group involves many war zones, such as Syria, Afghanistan, South Sudan and Yemen, as well as countries that are torn apart by corruption.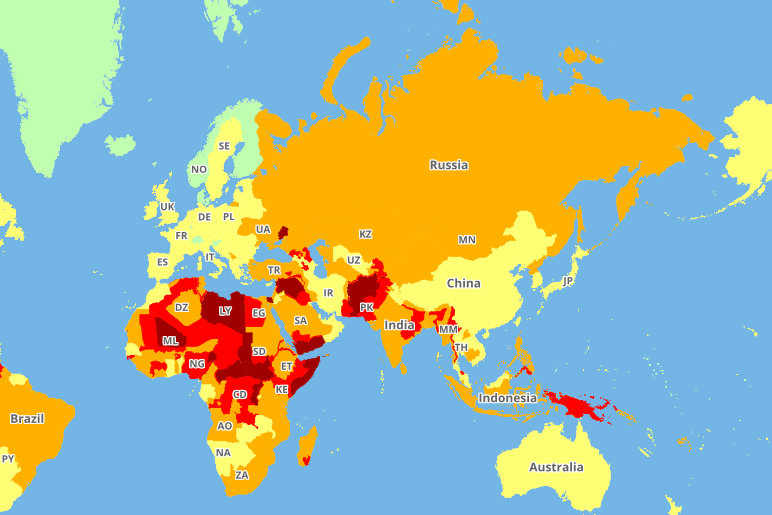 According to the market research company IPSOS, 43% of business decision-makers believe that travel risks will increase in 2019. However, pessimism is in a downward spiral as well, as this compares to 63% that expected the same back in 2017.
Safety wasn't the only aspect to be evaluated. International SOS also published a Medical Risk Map and a Road Safety Risk Map for 2019. Again, the UK and most of Central Europe are considered low risk, based on the standards of the medical facilities and pharmaceutical supplies.
10 highest security risk countries
Syria
Yemen
Afghanistan
Iraq
Libya
Mali
Central African Republic
South Sudan
Somalia
The Gaza Strip
10 lowest security risk countries
Luxembourg 
Switzerland
Slovenia
Norway 
Denmark 
Finland
Greenland
Iceland
Seychelles
Cape Verde